Audi has just released new design sketches of an upcoming SUV concept it is set to unveil at this month's Beijing Motor Show 2014.
Audi is remaining tight lipped on details, but the concept is believed to be previewing the new Audi Q4 SUV. The Q4 will compete with the BMW X4 as well as the Porsche Macan.
As the images show, the new Audi concept car shares many design traits with the Allroad Shooting Brake from earlier this year. As a result of this, the car features aggressively flared wheel arches as well as a similar front bumper, grille and headlights to the Allroad Shooting Brake and ultimately, the new 2015 Audi TT. It is a similar story both at the rear and in the cabin.
Beneath the sharply designed body is a new plug-in hybrid powertrain. This engine consists of a 2.0-liter turbocharged four-cylinder engine paired with a couple of electric motors. One of those is found within the double clutch transmission while the other is found at the rear axle. Specific details about this powertrain and its output won't be revealed until Beijing, but according to sources, it will deliver around 402 hp and 480 lb-ft like the Allroad Shooting Brake.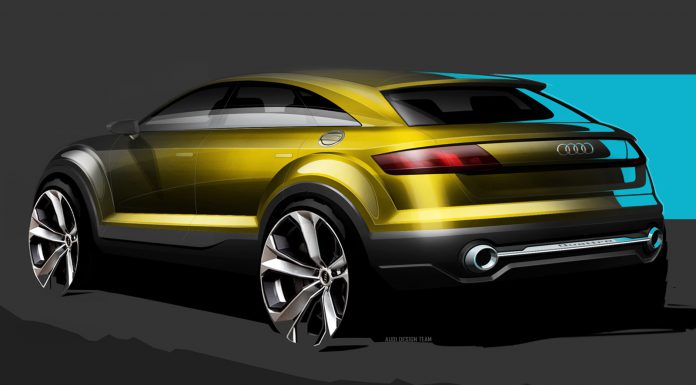 Interestingly, the Audi Q4 SUV Concept heading to Beijing features a new inductive charger for the battery pack on top of the traditional socket.