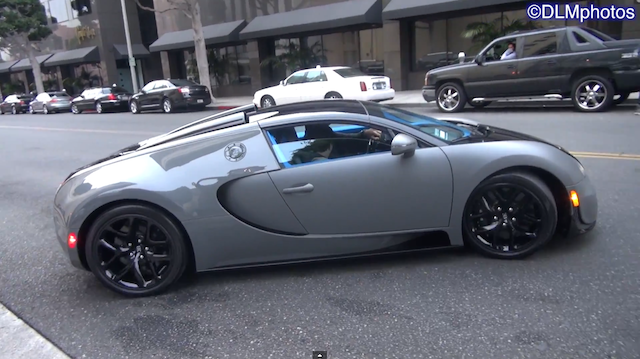 Beverly Hills is rife with supercars, one car has recently been causing quite a stir, a matte grey and carbon Bugatti Veyron Grand Sport Vitesse complete with a bright blue interior! This is one of the finest examples we have seen to date.
[youtube]http://youtu.be/_I085fliEiE[/youtube]
Power is transferred to all four wheels via a seven-speed direct-shift gearbox with a shift time of 0.1 sec. The first gear goes all the way up to 104km/h and the seconds goes to 148km/h, an illegal speed is almost every country in the world. The third gear takes you to 197km/h, the fourth to 257km/h, the fifth 313 km/h, the sixth 377km/h and the seventh gear takes you to the top speed of 410 km/h!