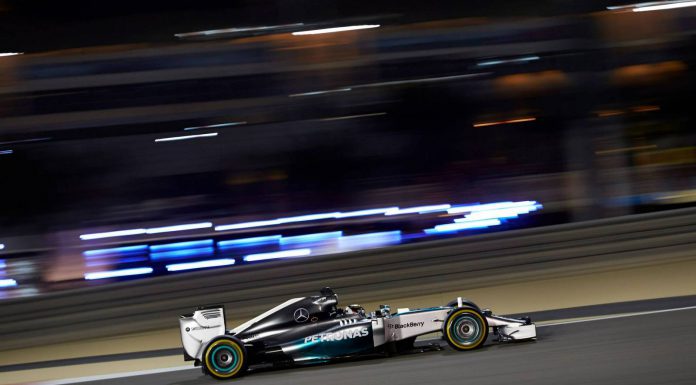 Mercedes driver Nico Rosberg claimed pole for tomorrow's Bahrain Grand Prix in a thrilling floodlit qualifying session, extending Mercedes' winning streak and their dominant start to the 2014 season. Teammate Lewis Hamilton had led all three practice sessions in what was to be a repeat of the Malaysian GP had he won the pole position instead. When it came to the third qualifying round Rosberg edged Hamilton, and confirmed another Mercedes-locked front row for tomorrow's race.
The practice sessions had seen a determined Hamilton take the early lead, Sergio Perez on the other hand driving for Force India surprised the in FP3 when he finished third, 0.544s behind Hamilton's time of 1m 35.324s. Come Q1 all teams went for soft tires except for Mercedes and Daniel Ricciardo's Red Bull. It was Force India's Nico Hulkenberg who set the fastest time at 1m 34.874s followed by Valtteri Bottas with 1m 34.934s and Sergio Perez with 1m 34.998s.
Rookie Kevin Magnussen was able to jump from 19th to 7th place during Q1 while theMarussia and Caterham teams showed notable progress after today's sessions. It was during this session that Sauber's Adrian Sutil bumped into Lotus driver Romain Grosjean in an "unsafe manner" and as a result the German has been slammed with a five grid penalty that will see him start at 21st alongside Marussia's Max Chilton.
In Q2 Mercedes turned the tables once again with Rosberg and Hamilton both finishing in the 1:33min bracket, all teams were now running with soft tires. The world champion, Sebastian Vettel was once again outshined by teammate Daniel Ricciardo after doing a time of 1m 34.985s. This is the second time this season Ricciardo has out-qualified Vettel and it was Kimi Raikkonen who set the tenth fastest time knocking Vettel out of Q3 contention.
In Q3, it was still a Mercedes dominated territory where Rosberg led his teammate Hamilton to locking out the front row to themselves. Ricciardo managed to set the third fastest time with a 1m 34.051s. Fourth place went to Bottas in the Williams with a 1m 34.247s while Perez put Force India in fifth with 1m 34.346s.
Aside from Sutil who was awarded with a five grid penalty, Ricciardo's penalty from the Malaysian GP will take effect during tomorrow's race. The starting grid looks as follows:
Rosberg, Hamilton;
Bottas, Perez;
Raikkonen, Button;
Massa, Magnussen;
Alonso, Vettel;
Hulkenberg, Kvyat;
Ricciardo, Vergne;
Gutierrez, Grosjean;
Maldonado, Kobayashi;
Bianchi, Ericsson;
Chilton, Sutil;