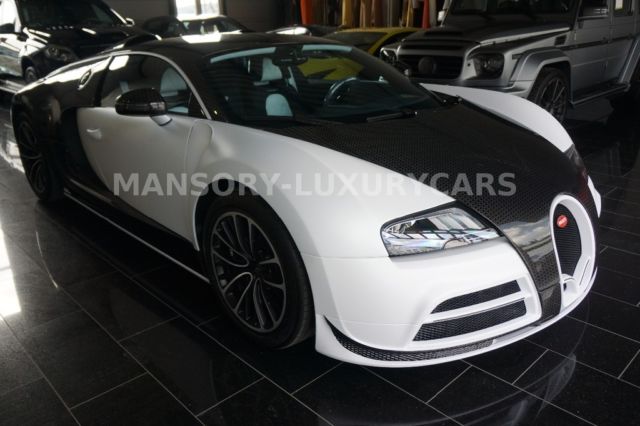 Mansory have placed an advert on popular German second hand car website mobile.de advertising the Mansory Bugatti Veyron Vivere recently unveiled at the Geneva Motor Show 2014. The white and carbon fibre coloured car is being advertised for an eye-watering 2,499,999 euro price tag!
The car is based at Mansory's Brand, Germany workshop. It features extensive upgrades – more extensive than any other Mansory-tuned Bugatti Veyron.
The Mansory Veyron Vivere gets a comprehensive facelift at the front, consisting of modified wings, a shortened bonnet and a striking front apron. The integrated LED daytime running lights in the front section and the stylised "V" give the Mansory Veyron Vivere a real distinctive look.
The Vivere also gets a new set of side skirts together with larger air outlets on the flanks and at the rear of the vehicle. At the rear, the Veyron gets a new diffuser and two air intakes. The exhaust exits are obviously an acquired taste! The majority of the panels are finished in carbon fibre, a Mansory speciality.