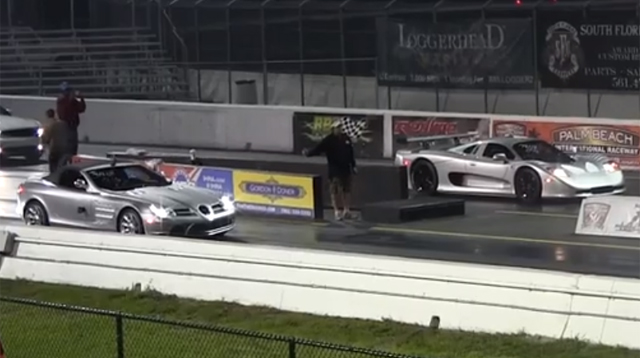 In mid last year, it was announced that American supercar manufacturer Rossion and its owner, private company RP High Performance acquired the rights to Mosler. Consequently, Rossion and Mosler joined forces with the Mosler name being dropped and future models produced by the pairing set to be simply known as Rossions.
[youtube]https://www.youtube.com/watch?v=6zDIxB9KbSE[/youtube]
Surprisingly, Mosler had been around 26 years before it joined with Rossion. Despite being around for so long, the high-end American car manufacturer managed to sell a mere 200 cars, 14 of which are the MT900 model. Because of the exclusivity of the MT900, it is rarely seen in public and if one is, you'd be hard pressed to actually see it driving.
Recently however, a silver Mosler MT900 made an appearance at the Palm Beach International raceway drag strip where it was pitted against another exceptionally rare supercar, the Mercedes-Benz SLR McLaren. We won't ruin the result for you but needless to say, this is definitely a video worth watching!