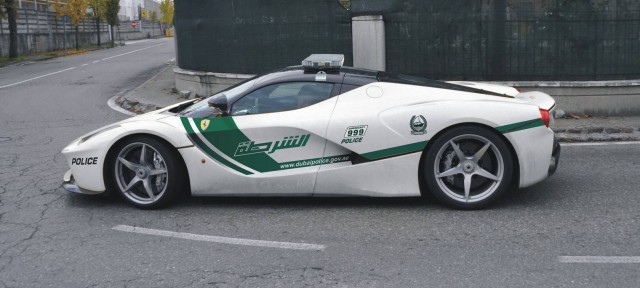 Last year, the Dubai Police cemented itself as the world leader when it comes to the value of its police car fleet. Just some of the highlights includ a Bugatti Veyron, McLaren 12C, Lamborghini Aventador, Ferrari FF, Bentley Continental GT and the ultra-rare Aston Martin One-77.
It is rather unlikely that the force will get their hands on Ferrari LaFerrari but here we have a render by Alex from South Africa of what the car could look like if it ever were to be procured by the authorities!
Powering the Ferrari Enzo on the other hand is a brutal 6.0-liter V12 engine. This potent powertrain revs all the way to 8,000 rpm and delivers a potent 651 hp at 7,800 rpm and 485 lb-ft of torque at 5,500 rpm. The Enzo can accelerate to 100 km/h in a very brisk 3.2 seconds and the top speed has been recorded to be around 354 km/h certainly quick enough to pull-over the supercars that roam the streets of Dubai.