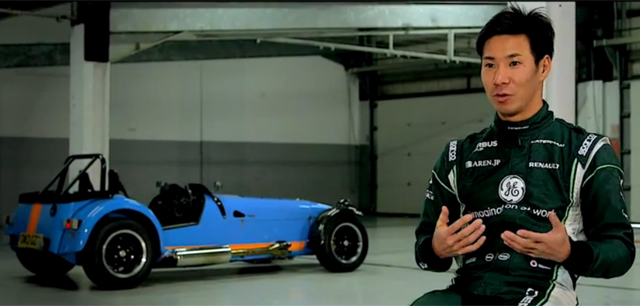 Just a few episodes ago on Top Gear, James May drove the awesome 2014 Caterham 620R. As one of the most powerful Caterhams ever created and only really overshadowed by the rather mysterious and rarely seen V8 powered Levante, it is extreme. Recently, new Caterham F1 driver Kamui Kobayashi hit Silverstone in the potent little track day racer.
[youtube]https://www.youtube.com/watch?v=ho8otFpsGYA#t=57[/youtube]
Designed to replace the Caterham R500, the Caterham 620R features a tiny 2.0-liter supercharged four-cylinder Ford Duratec engine delivering 311 hp at 7,700 rpm and 219 lb-ft of torque at 7,350 rpm. This helps launch the 620R to 100 km/h in around 2.8 seconds and an impressive top speed of 250 km/h!
The 2.0-litre Ford Duratec supercharged engine comes with a 6-speed sequential transmission with flat-shift and a limited slip differential is included. The car sits on a unique gunmetal chassis with carbon-fibre wings and air flow optimized nose cone. There is also a race developed cooling package and the entire car rides on De-Dion rear suspension with high performance dampers and wide track front suspension with high performance dampers.
Braking is enhanced through the ventilated front discs and quad piston calipers. As for the interior, you get very little other than some loads of carbon fiber. The wheels are lightweight 13 inch alloys wrapped with Avon ZZR tyres sizing 185/55R13 front and 215/55R13 rear. It also has 4 point race harness, Q/R Race steering wheel and high performance focused instrumentation and switchgear.