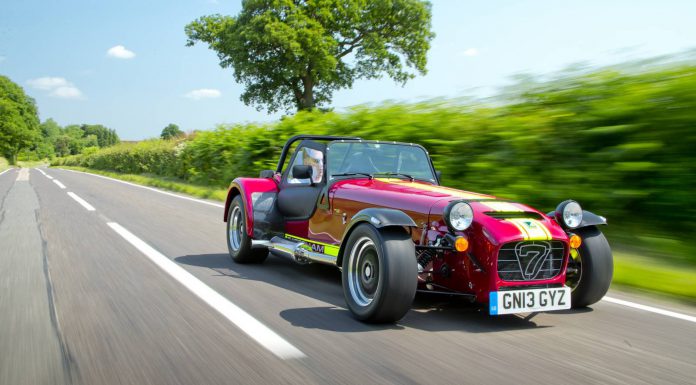 Caterham have revealed the most powerful Seven car to date ahead of its global debut at the Goodwood Festival of Speed 2013. It's called the Caterham Seven 620R that replaces the superlight Caterham Seven R500.
The new car has an output of 311hp at 7,700rpm and a maximum torque of 219lbsft at 7,350rpm thanks to the supercharged 2.0 liter Ford Duratec engine. It helps to launch the car from naught to 97km/h in just 2.8 seconds all the way to a top speed of 250km/h. The cost of one of these is £49,995, and this comes barely months after Caterham showed us the free Limited Edition Pack for all models to celebrate the 40th anniversary.
The Caterham Seven 620R will make its official debut at Goodwood, participating in the Hill Climb under the piloting of Caterham F1 Team driver Charles Pic. Caterham Cars CEO, Graham Macdonald, said:
The 620R is the most hardcore production Seven ever built for the road. The R500 claimed its place in motoring history as a benchmark for lightweight sportscar performance but this new vehicle pushes the boundaries even further.

While I wouldn't necessarily recommend this car for those inexperienced in driving Caterhams, we always ensure that even our fastest cars retain the manageable delivery of power that makes them accessible, despite the daunting statistics.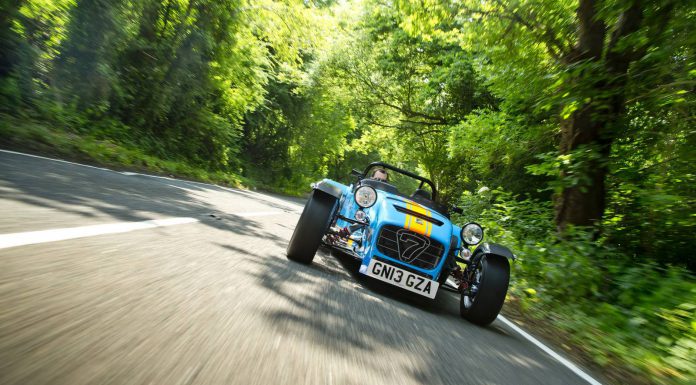 The 2.0-litre Ford Duratec supercharged engine comes with a 6-speed sequential transmission with flat-shift, a limited slip differential is included. The car sits on a unique gunmetal chassis with carbon-fibre wings and air flow optimized nose cone. There is also a race developed cooling package, the entire car rides on De-Dion rear suspension with high performance dampers and wide track front suspension with high performance dampers.
Braking is enhanced through the ventilated front discs and quad piston calipers. As for the interior, you get carbon-fibre panels and dash and carbon-fibre race seats. The wheels are lightweight 13 inch alloys shod with Avon ZZR tyres sizing 185/55R13 front and 215/55R13 rear. It also has 4 point race harness, Q/R Race steering wheel and high performance focused instrumentation and ergonomic switchgear.
The driver will enjoy a toggle switch ignition, sequential shift lights and carbon aero screen.