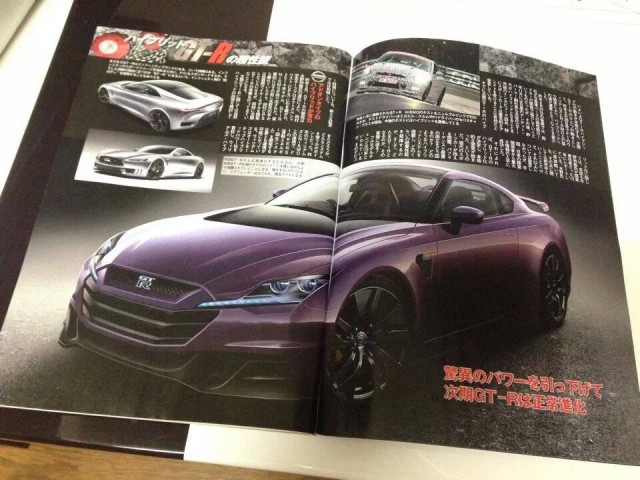 What you are laying eyes on could very well be the highly-anticipated 2016 Nissan GT-R courtesy of a leaked image published in a Japanese car magazine. While the sources behind the image and the details which accompany it are fairly sketchy, if true, the GT-R could be a true supercar game changer.
Under the hood, the 2016 Nissan GT-R will feature a hybrid powertrain. Of course, this is no secret as it was previously confirmed by Nissan and it will be co-developed by Williams and Nismo. What is new however is that the next-generation GT-R is expected to maintain the 3.8-liter twin-turbocharged V6 engine it currently uses albeit heavily updated. All up, the internal combustion engine alone is predicted to produce 580 hp, about the same as the current GT-R Nismo.
However, the hybrid system employing KERS like technology will apparently provide an additional 250 hp thus giving the GT-R more than 800 hp. If these figures are true, then the 2016 Nissan GT-R could sit perfectly in the gap between supercar leading cars like the Aventador and F12 Berlinetta and just below the trio of hybrid hypercars from Britain, Germany and Italy.
Thanks to more than 800 hp on tap, the Nissan GT-R should hit 100 km/h in around 2.7 seconds. That's not really any faster than the current range-topping GT-R Nismo, but acceleration thereafter will be greatly improved. Top speed is expected to be around 340 km/h. So with all this being said, you may expect the new GT-R to cost say half a million dollars? Nope, reports claim we can expect to see it priced between $120,000 and $150,000, barely any more than the current car and about the same as the GT-R Nismo.
Finally, it is speculated that the 2016 Nissan GT-R could be revealed in as soon as a year before hitting roads as a 2016 model.
[Via 7 Tune]