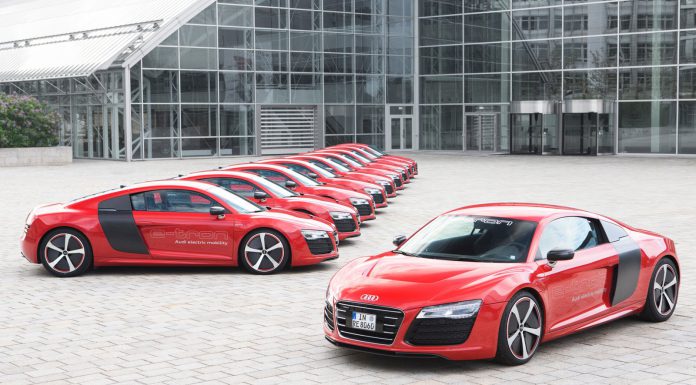 Following recent announcements that the Audi R8 e-tron was set to finally hit the roads, it has been confirmed by the German marque that the electric-powered supercar will be built to order.
Initially, Audi decided not to move ahead with the production of the R8 e-tron due to concerns about its limited range. However, since then, the range has been increased from 220 km all the way up to 450 km. Additionally, thanks to the recent launch of the Lamborghini Huracan, the R8 e-tron will be able to use its platform just like the upcoming next-gen, 2015 R8.
Audi has yet to comment on just when the R8 e-tron will hit roads, but did confirm that when it does, it'll still be used to further develop Audi's electric cars due in the future. Because the electric supercar market is still in its infancy, the only real car the R8 e-tron will have to rival is the Mercedes-Benz SLS AMG Electric Drive which we know is actually more powerful than the petrol version!
However, if reported power figures for the Audi R8 e-tron are to be believed, it won't actually be aimed to rival the SLS AMG Electric Drive. It is currently predicted to feature two electric motors working with the batteries helping to deliver 376 hp and 605 lb-ft of torque. As a result, it should hit 100 km/h from a standstill in around 4.2 seconds and an electronically limited top speed of 124 mph.
Visually, it is expected to feature the same styling updates as the standard second-generation Audi R8 also due out next year.
[Via Autocar]