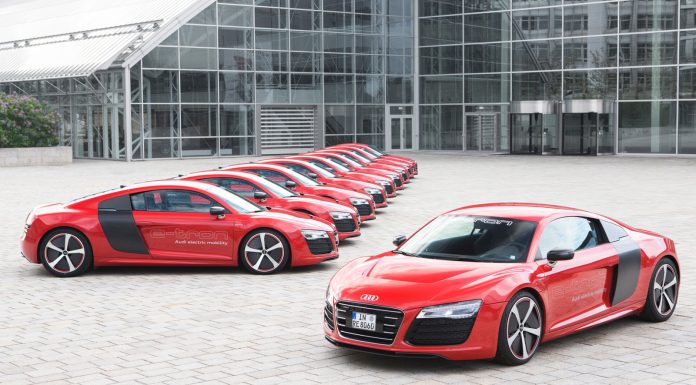 Last month, it emerged that the Audi R8 e-Tron is set to hit the production line in limited numbers despite previous rumours suggesting otherwise. The main reason behind this change of heart for Audi apparently comes from the developments in lithium-ion battery technology over the last few years helping to increase the range of the R8 e-Tron.
Now, it has emerged that while the Audi R8 e-Tron has yet to receive the final tick of approval for production, it is edging ever closer to being signed off and given the go-ahead. While speaking at the Detroit Motor Show 2014, Audi technical chief Ulrich Hackenberg said, "I'm discussing with the board a way to realise this car and use it as a technology flagship. We need something to bring these new technologies to market."
As mentioned, one of the key reasons Audi originally decided to cancel the R8 e-Tron was because of the limits of lithium-ion battery technology at the time. As a matter of fact, Audi claimed that it could only travel 215 km on a single charge. Now, Audi claims that recent advances have seen that rise to 400 km and consequently, the Audi R8 e-Tron could reach the production line in the second half of next year.
Unlike the 'normal' Audi R8, the R8 e-Tron will actually be rear-wheel drive and act as the halo model for Audi's future electric range. Under the hood, the 2015 Audi R8 e-Tron may feature two electric motors producing a total of 376 hp and 605 lb-ft of torque. As a result, it should hit 100 km/h from a standstill in around 4.2 seconds and an electronically limited top speed of 124 mph.
Visually, it is expected to feature the same styling updates as the standard second-generation Audi R8 also due out next year.
[Via Autocar]