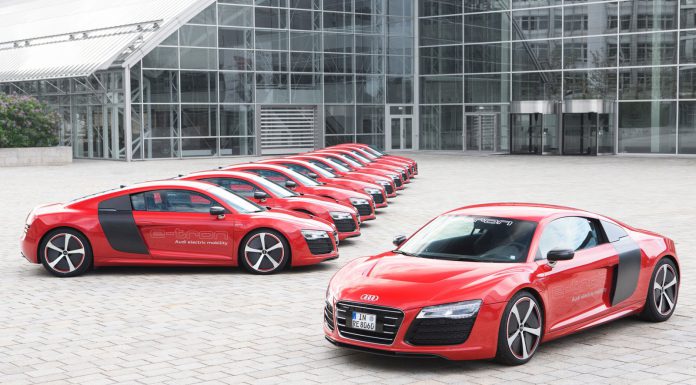 When Audi first released the R8 e-Tron a couple of years back, it was billed as the world's first all-electric supercar. However, Audi later dropped the bombshell that the R8 e-Tron would not hit the production line and that development of the remaining prototypes would continue to help future electric Audi's. Now, however, reports have emerged suggesting that Audi is preparing to produce the R8 e-Tron in limited numbers.
One of the key reasons Audi originally decided to cancel the R8 e-Tron was because of the limits of lithium-ion battery technology at the time. As a matter of fact, Audi claimed that it could only travel 215 km on a single charge. Now, Audi claims that recent advances have seen that rise to 400 km and consequently, the Audi R8 e-Tron could reach the production line in the second half of next year.
Unlike the 'normal' Audi R8, the R8 e-Tron will actually be rear-wheel drive and act as the halo model for Audi's future electric range. Under the hood, the 2015 Audi R8 e-Tron may feature two electric motors producing a total of 376 hp and 605 lb-ft of torque. As a result, it should hit 100 km/h from a standstill in around 4.2 seconds and an electronically limited top speed of 124 mph.
Visually, it is expected to feature the same styling updates as the standard second-generation Audi R8 also due out next year.
[Via Autocar]