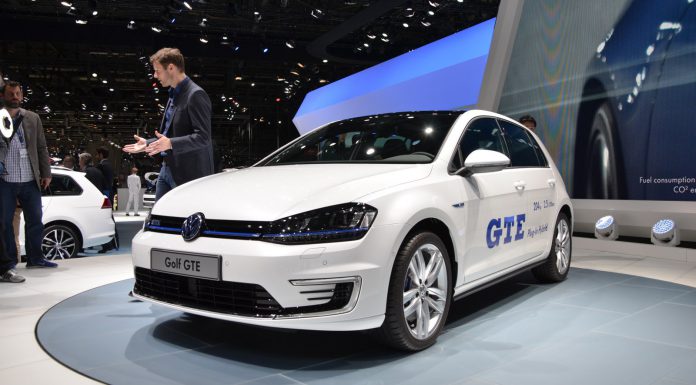 One of the real highlights at the ongoing Geneva Motor Show 2014 is the brand new Volkswagen Golf GTE. Providing similar power to the Golf GTI, the new Volkswagen Golf GTE does so in a much more environmentally friendly way with it utilising a hybrid powertrain. Intrigued, we got up close and personal with it at the show.
The Golf GTE features a modest 1.4-litre 'TSI' petrol engine that produces a rather dull 148 hp. The fun comes when this rather normal engine is linked to the 101 hp electric motor that has been squeezed between a separator clutch and the DSG transmission, an identical power train to that found in the Audi A3 e-tron.
When operating hand-in-hand, the two power sources can send a peak power output of 201 hp and 258 lb-ft of torque to the front wheels compared to the 217 hp of the GTI. This is not a substantial power disparity and the GTE and GTI both produce 258 lb-ft of torque, a very respectable figure of a hot hatch.
The major difference is one that affects handling, economy, comfort and virtually every aspect of driving, the cars weight. Batteries are certainly not very light and those fitted in the Golf GTE weight in at 120 kilograms. This raises the curb weight to a rather cumbersome and unflattering 1,520 kilograms a total of 170 kilograms over the cars GTI badged sibling.

If you want to read more about the Volkswagen Golf GTE, check out our earlier article. Let us know what you think of the car in the comments box below. For full Geneva Motor Show 2014 coverage, check out our dedicated channel!