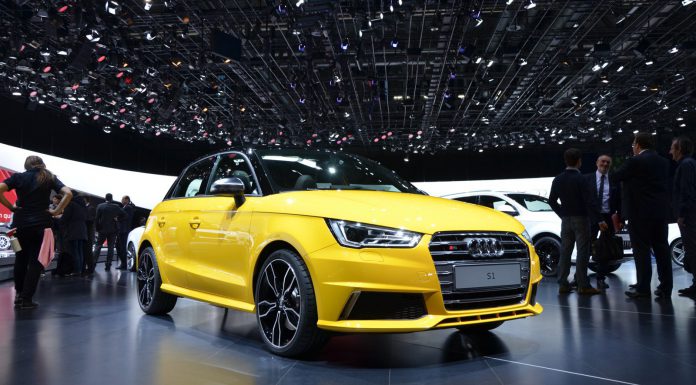 Both the Audi S1 and Audi S1 Sportback receive their debut at the Geneva Motor Show 2014. Both models resurrect a classic motorsport name applied to the legendary Audi Quattro. Whilst both cars get four-wheel drive, they aren't successors in any sense of the word. They establish something completely different for the German brand. We took a closer look at both cars on the stand!
Both the Audi S1 and Audi S1 Sportback provide Audi with a strong compact flagship model. The combination of a potent 2.0 litre TFSI engine and a four-wheel drive system make for a compelling package. The Audi S1 and Audi S1 Sportback feature identical power ratings of 231 hp with 370 Nm of torque. Enough for a 0 to 100 km/h time of 5.8 and 5.9 seconds respectively with a top speed of 250 km/h (155.34 mph).
The interior is finished in a traditional black colour scheme. The instruments feature S-specific dark-gray scales, the pedal caps are made out of brushed stainless steel and Audi fits S sport seats with integrated head restraints. The quattro interior styling package is available to differentiate the interior with various colour options.
Four new exterior colours are available to order on top of the normal paint range. An optional quattro exterior styling package adds further features such as a large roof spoiler. German customers will receive their cars during the second quarter of 2014.
If you want to find out more about the Audi S1 and Audi S1 Sportback, take a look at our earlier article. For more news on the events at the Geneva Motor Show 2014, check out our dedicated news channel!