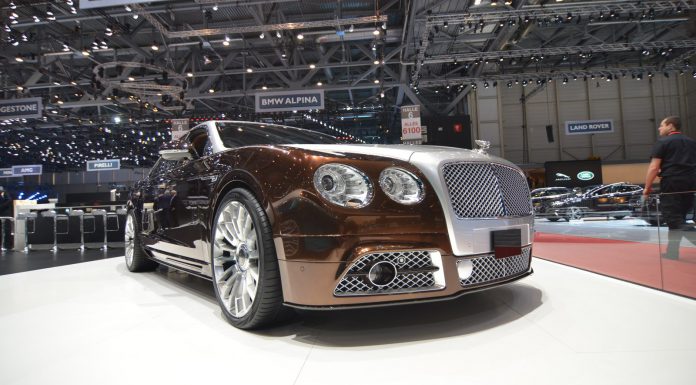 The Geneva Motor Show 2014 is playing host to all sorts of weird and wonderful things this weekend. Once such example is the brand new Mansory Bentley Flying Spur on display next to a host of other interesting Mansory projects. We took a closer look at this unique Mansory limousine.
Mansory have their roots in tuning British manufacturers. The Mansory Bentley Flying Spur was, therefore, only a natural progression. The Mansory Bentley Flying Spur features coachwork finished in chrome, brown and carbon fibre. Mansory's carbon fibre expertise shows in the bonnet, the front apron (with separately integrated LED's and daytime running lights), the side skirts, the rear apron and the rear spoiler.
The Bentley's 6.0 litre W12 engine gets an upgrade at the hands of the German tuner. From 635 hp, the Bentley Flying Spur manages a lofty 900 hp output with some help from Mansory. Torque is now pegged at 1,100 Newton metres, electronically limited, to avoid damage to the drive train. The Flying Spur hits the 100 km/h milestone from a standstill in just 3.6 seconds and 200 km/h in 12.2 seconds. Top speed is 340 km/h, compared to 320 km/h for the production model.

To find out more about the Mansory Bentley Flying Spur and the various different options, take a look at our earlier article. For more from the Geneva Motor Show 2014, take a look at our dedicated news channel!