Just a couple of days after the BMW M4 DTM racer was officially revealed, the new 2014-specification Audi RS5 DTM has debuted at the Geneva Motor Show 2014. Featuring a redesigned aerodynamics package, the new RS5 DTM promises to be even more capable than last year's entrant from the German marque.
Last year, Audi Sport came out victorious with its RS5 racer so has a lot to live up to to repeat last year's success. Because DTM rules allow little room to manoeuvre and tweak cars from year to year, the crew at Audi focused intently on small details to improve the aerodynamics of the entire car.
Up front, the Audi RS5 DTM features the same honeycomb grille as the production car while also featuring redesigned air ducts feeding the engine and brakes. Additionally, optimisations have been made to the massive canards of the RS5 DTM in order to make the airflow in this area more efficient. The wing mirrors have been tweaked accordingly to allow for the best airflow along the sides of the car also.
In addition to tweaks with the aerodynamics, the new Audi RS5 DTM features revised suspension both up front and at the rear.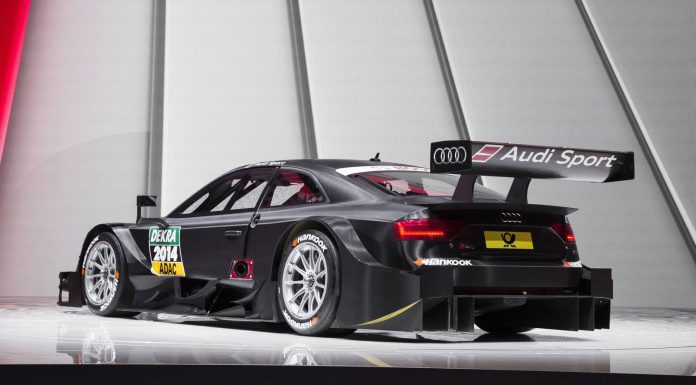 When discussing the car, Member of the Board of Management for Technical Development of Audi Dr. Ulrich Hackenberg said, "In production development, we tackle the challenge of making good cars even better day by day.
"This applies to Audi Sport as a part of Audi's Technical Development as well. The most recent results achieved by hard work are an all-new R18 e-tron quattro that we're aiming to stand our ground with at Le Mans and in the WEC against Porsche and Toyota, plus a largely new RS 5 DTM with which we're aiming to keep our number-one spot in the tough competition with BMW and Mercedes-Benz. Of course, neither of these commitments is an end in itself: Motorsport at Audi accelerates the development of new technologies."

Let us know what you think of the car in the comments box below. For full Geneva Motor Show 2014 coverage, check out our dedicated channel!