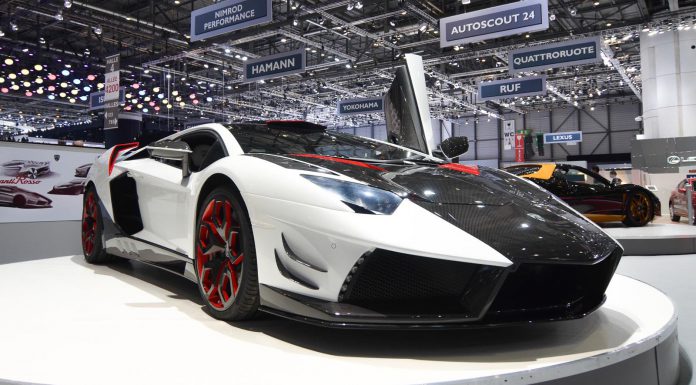 Nimrod Performance are a relatively new name on the tuning scene here at the Geneva Motor Show 2014. They have made an extreme entrance through, showing two heavily modified Ferrari 458 Italia's and this, the Avanti Rosso Lamborghini Aventador. We took a closer look at the Nimrod Performance Avanti Rosso.
At the time of writing, there wasn't any further information available for the Nimrod Performance Avanti Rosso. However, having taken a closer look at it, we think a visual description will suffice (supplemented by some excellent photos of course!). The Nimrod Performance Avanti Rosso is giving similar offerings at FAB Design, Mansory and Hamann a run for their money!
The company appears to be Slovakian. The car features heavy upgrades. The front bonnet has been replaced with what looks like a carbon fibre component. The front bumper has been entirely replaced with new air intakes, LED daytime running lights and a side flicks.
Moving further back, the Nimrod Performance Lamborghini Aventador gets a whole host of new vents above the front wheels, on the roof, along the side and above the rear wheel. At the back of the car, the engine cover looks to have been replaced by a Sesto Elemento style unit. The rear wing is absolutely massive and the exhausts get a unique shaped central exit. The rear diffuser is all new and the entire rear looks as though it is finished in carbon fibre.
For more photos and details of the Nimrod Performance Avanti Rosso, take a look at our earlier article. For all the latest news from the Geneva Motor Show 2014, take a look at our dedicated news channel!