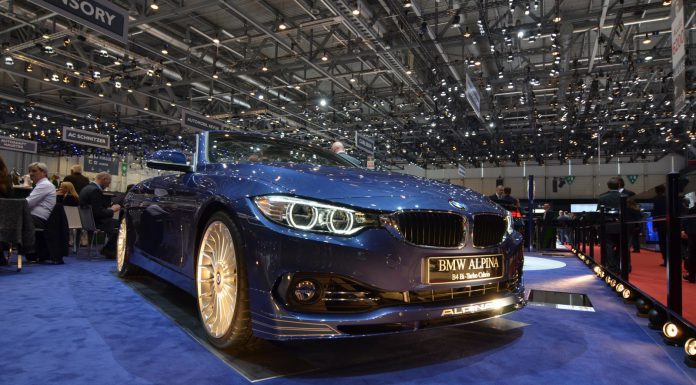 We caught up with the new Alpina 4-Series BiTurbo Convertible at the Geneva Motor Show 2014. The BMW 4-Series Convertible has barely reached customers hands, yet the German tuning specialists have already presented a comprehensive series of upgrades. We took a closer look!
The Alpina 4-Series BiTurbo Convertible is virtually identical to the package offered for the Alpina B4 BiTurbo Coupe. That car features revisions to its 3.0 litre straight six engine allowing for power figures of 404 hp between 5,500 rpm and 6,250 rpm and 600 Nm of torque from just 3,000 rpm.
The Convertible should get close tot he Coupe's 0 to 100 km/h (62mph) time of just 4.2 seconds, passing the 200km/h mark in just over 14 seconds on its way to a top speed of 305km/h. It should also receive the Alpina fettled 8-Speed Sport-Automatic transmission with three shift modes; Automatic (D), Sport (S) and Manual (M). To stop, the Alpina B4 BiTurbo Convertible will get 18 inch high-performance brake system with 370mm discs at the front and 345mm discs at the rear.

To find out more about the Alpina 4-Series BiTurbo Convertible, take a look at our earlier article. Be sure to keep checking back on our Geneva Motor Show 2014 news channel for all the latest galleries and information!