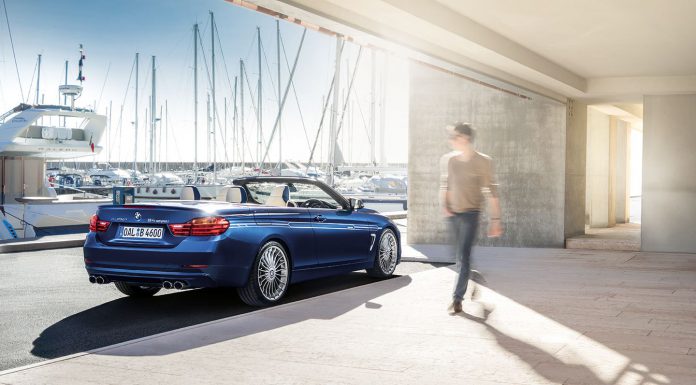 The Alpina B4 BiTurbo Convertible is set for an official unveil at the Geneva Motor Show 2014. The drop-top BMW 4-Series Convertible receives a range of familiar upgrades applied by the Alpina brand.
Official details are a little short on the ground at the moment, yet we suspect it will be virtually identical to the package offered for the Alpina B4 BiTurbo Coupe. That car features revisions to its 3.0 litre straight six engine allowing for power figures of 404 hp between 5,500 rpm and 6,250 rpm and 600 Nm of torque from just 3,000 rpm.
Performance from 0 to 100 km/h (62mph) happens in just 4.2 seconds, passing the 200km/h mark in 14 seconds on the way to a top speed of 305km/h. It should also receive the Alpina fettled 8-Speed Sport-Automatic transmission with three shift modes; Automatic (D), Sport (S) and Manual (M). To stop, the Alpina B4 BiTurbo Convertible will get 18 inch high-performance brake system with 370mm discs at the front and 345mm discs at the rear.
Alpina fit a sport suspension setup to their cars with electronically adjustable dampers, performance springs, bump stops and stabilisers. The Drive Performance Control modes (Eco Pro, Comfort, Sport, Sport+) control all these variables. Small adjustments are also made to the camber, toe-in and elastokinematics to make for a more neutral ride.
In terms of visual updates, the Alpina B4 BiTurbo Convertible will get a new front spoiler with a revised front bumper. The later will feature larger air intakes. Overall, it looks more aggressive than the standard car. Coupled with the sporting line running down the middle, it looks very sporting. Quad tailpipes and a boot lid spoiler help too!