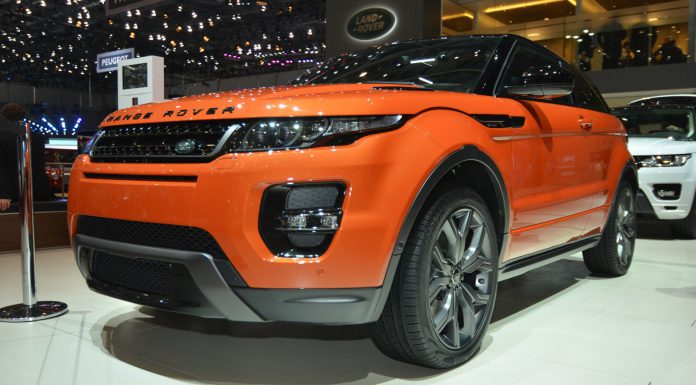 One of the highlights for Land Rover at the ongoing Geneva Motor Show 2014 is this, the brand new Range Rover Evoque Autobiography Dynamic. Currently the most performance oriented version of the Evoque SUV, the Autobiography Dynamic combines potent performance with impressive visual upgrades. We went up for a closer look!
Under the hood, the Range Rover Evoque Autobiography Dynamic is powered by the same 2.0-liter four-cylinder turbocharged engine as the standard Evoque. However, this engine has been modified to now deliver 281 hp and 295 lb-ft of torque. What that means is that the Autobiography Dynamic produces 44 hp and 44 lb-ft more than the standard Evoque.
To achieve these gains, Range Rover tinkered with the turbocharger, engine mapping while also adding a new sports exhaust system adding a deep burble to the British crossover. The engine is then mated to a nine-speed ZF transmission driving all four wheels. While the gearbox is an automatic, when fitted to the Range Rover Evoque Autobiography Dynamic, it does help to provide an extra kick of performance in the mid-range. When it is all said and done, the Autobiography Dynamic hits 100 km/h in a brisk 6.7 seconds and a limited top speed of 140 mph.
In addition to the upgraded engine, the Dynamic has received improved steering along with tweaked suspension. The suspension now features stiffer springs along with recalibrated dampers helping to make this latest Evoque more enjoyable to drive. Another key highlight of the Range Rover Evoque Autobiography Dynamic is the Torque Vectoring by Braking (TVB) system which comes standard.

If you want to read more about the Range Rover Evoque Autobiography Dynamic, take a look at our earlier article. Follow all the events at the Geneva Motor Show 2014 by reading our dedicated news channel!