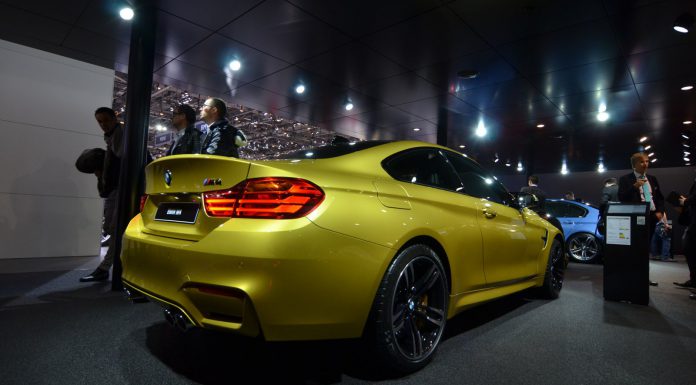 The BMW M4 is on display at the Geneva Motor Show 2014. It has only made one minor appearance in Europe since it was officially announced. European owners and BMW M-division fans are eager to see what it looks like in the flesh. We took a closer look at it on the Geneva show floor!
The latest generation BMW M4 ditches 28 years of history in favour of a more logical model structure. In another life the BMW M4 would be named the BMW M3, but we must look past this. The new BMW M4 weighs around 80 kg less than the outgoing model, 1,497 kg in total. The weigh reductions are achieved through the use of carbon fiber reinforced plastic as well as a carbon fiber roof and aluminium chassis and body components.
The BMW M4 gets a 3.0 litre twin-turbocharged six-cylinder engine which revs to 7,600 rpm, producing an impressive 431 hp between 5,390 rpm and 7,000 rpm and 406 lb-ft of torque from as low as 1,800 rpm to 5,390 rpm. The BMW M3 will sprint to 100 km/h from a standstill in just 4.1 seconds. Top speed is limited to 250 km/h but this can be increased to 280 km/h with the optional M driver's package.
For more information on the BMW M4, take a look at our earlier article. For all the latest Geneva Motor Show 2014 news, take a look at our dedicated news channel!