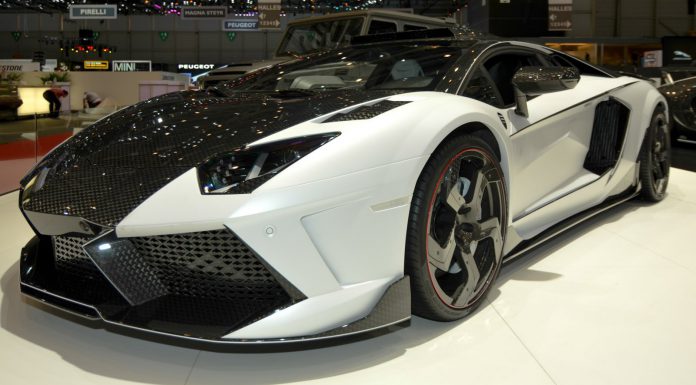 The Geneva Motor Show 2014 continues a time honoured tradition set by Mansory. They have once again set the benchmark for crazy tuning projects with the Mansory Aventador Carbonado GT. It features the same stunning stealth fighter jet carbon fibre as the Carbonado they presented last year, this time it has a 1,600 hp sting! We took a closer look.
The Mansory Aventador Carbonado GT gets a redesigned front facia with larger air intakes and a new front lip spoiler with integrated daytime running lights. The front wings and the front bonnet have been replaced with Mansory's own design. The width grows by 40 millimetres at the front and 50 millimetres at the rear.
Under the bonnet, Mansory have fitted their own twin turbochargers to the 6.5 litre V12 engine. It gets new pistons, connecting rods, rod bearings, crankshaft, crank and cylinder heads replacing the standard Lamborghini parts. From manifold right up to the stainless steel tailpipes, the complete exhaust system has been replaced. Instead of the serial 700 hp the Mansory Aventador Carbonado GT now gets an impressive 1600 and an electronically-limited torque figure of 1200 Nm.

Find out more about the car by reading our earlier Mansory Aventador Carbonado GT article. Follow all the latest automotive and tuning news from the Geneva Motor Show 2014 by checking our dedicated news channel!