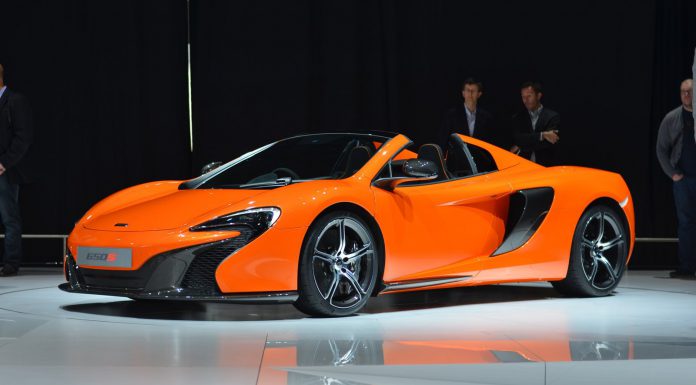 The McLaren 650S Spider has made its debut together with its Coupé counterpart at the Geneva Motor Show 2014. We thought you'd prefer to read all the specs together with live photos of the car in question from the show floor. We just got back from the official release and so we are reporting live from the show floor!
McLaren chose to display the McLaren 650S Spider in a new colour, Tarocco Orange. This has been developed, in a similar way as other unique McLaren colours, with technology partner AkzoNobel. The car follows the same principals as the McLaren 12C Spider in that the drawbacks of it being a convertible are minimal. With the roof removed, the 650S Spider is said to perform in a very similar way to the Coupé.
While the 650S Spider is made slightly heavier through the addition of the retractable roof components, it is mechanically identical to the 650S Coupé. It is therefore fitted with the uprated, in-house McLaren M838T twin turbo V8 engine, producing 650 hp and 678 Nm of torque. This makes 0-100 km/h possible in a square 3.0 seconds, identical to the Coupé, and 200 km/h possible in 8.6 seconds, only 0.2 seconds shy of the fixed-head model. Top speed is 329 km/h.
The carbon fibre MonoCell chassis sits at the heart of the McLaren 650S Spider with no modification or strengthening. This makes for identical handling, ride, and virtually identical straight-line performance figures. This is possible despite a 40 kg weight increase up to a total figure of just 1,370 kg (dry). The roof takes just 17 seconds to close and can be operated at speeds of up to 30 km/h.
The features of the roof remain identical to the standard 12C Spider. The McLaren 650S Spider gets a heated glass rear window which can be operated independently of the roof. As standard, the 650S Spider gets carbon ceramic brakes and unique '650' lightweight alloy wheels shod with Pirelli P Zero™ Corsa tyres. Inside McLaren offers an IRIS satellite navigation with Bluetooth compatibility, a DAB digital radio in Europe (SIRIUS satellite radio in North America), wireless tethering, audio streaming and voice control and the cabin is fully trimmed in Alcantara.

To find out full details of the McLaren 650S Coupé and the extra goodies it offers over the 12C, take a look at our earlier article. Be sure to check out our Geneva Motor Show 2014 news channel for all the latest at the show over the next few days!