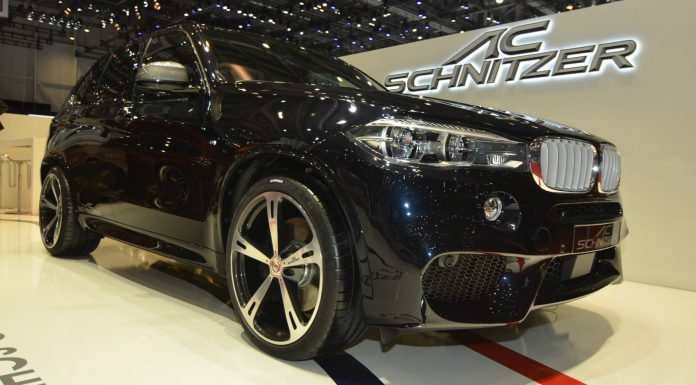 The brand new BMW X5 M50d by AC Schnitzer is currently on display at the Geneva Motor Show 2014 and is the first in a long-line of AC Schnitzer tuned third-generation BMW X5 models. Fitted with a unique tri-turbo 3.0-liter straight-six diesel engine, the X5 M50d is already impressive and AC Schnitzer have made it even better. We headed to the booth to capture some pictures of it.
The BMW X5 M50d by AC Schnitzer manages to deliver 430 hp up from the standard 381 hp of the X5 M50d. This increase in power has been achieved thanks to the new AC Schnitzer exhaust system with the exhaust gas flow also being optimised. This allows the engine to operate more efficiently thus resulting in the extra power.
Moreover, the BMW X5 M50d by AC Schnitzer features new lowering springs dropping the car by 30 mm at the front and 20 mm at the rear. In addition to dropping the car, these new springs offer a firmer ride and provide far better handling through corners.
A host of different wheel options are also available for the X5 M50d as well as the future X5 models AC Schnitzer works their magic on. These include the Type VIII forged racing wheels available in 21 and 22-inch, the Type VIII alloys in BiColor, Black or Silver and available solely in 20-inch. Furthermore, AC Schnitzer offers the Type V forged wheels finished in BiColor or Anthracite in 22-inch and last but not least, we have the Type IV wheels available in 20-inch and finished in BiColor.

For more details on the BMW X5 M50d by AC Schnitzer, take a look at our earlier article. For all the happenings at the Geneva Motor Show 2014, take a look at our dedicated news channel!