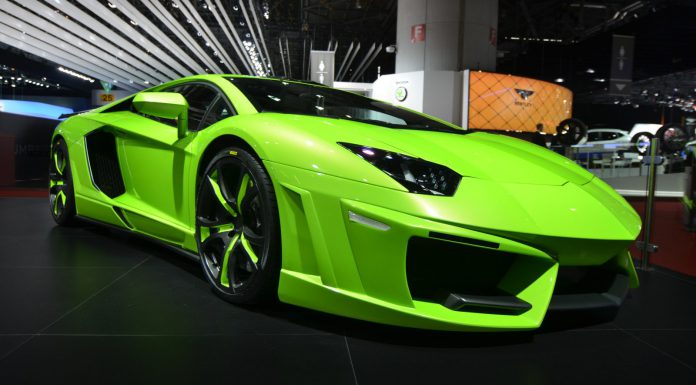 FAB Design have some interesting tuning projects on display at the Geneva Motor Show 2014. Whilst their McLaren P1 is attracting its fair amount of attention on the stands, the long rumoured FAB Design Spidron Aventador is arguably attracting more. Not only does it have a set of extreme updates, it also adds a loud colour scheme to match. We caught up with it on the stand!
Triangles are key with the FAB Design Spidron Aventador. It looks longer and lower than the standard Lamborghini Aventador. The Spidron gets a new front end which adds some extra length, the air intakes are larger and a new vent has been positioned in front of the wheel. The roof benefits from what looks like a faux air intake.
Moving backward, the FAB Design Spidron Aventador gets new side skirts. The Spidron also gets a new rear spoiler, mounted to the engine bay. It looks almost as though it were a Lamborghini Murcielago LP670-4 SV spoiler mounted upside-down. The wheels are five-spoke units coloured in grey with acid green highlights.

The rear facia is where the triangular changes are most evident (lets face it, you are most likely to see it on the road at this angle). Down from the imposing rear spoiler, the car features extra trim around the air intakes to create a bold effect. The rear bumper and diffuser are heavily revised with body colour flats and wings. The exhaust remains standard. FAB Design have confirmed that the Spidron Aventador will be followed by a wide body (?!) version later this year.
Take a look at the rest of our Geneva Motor Show 2014 news channel for all the latest information and news stories!