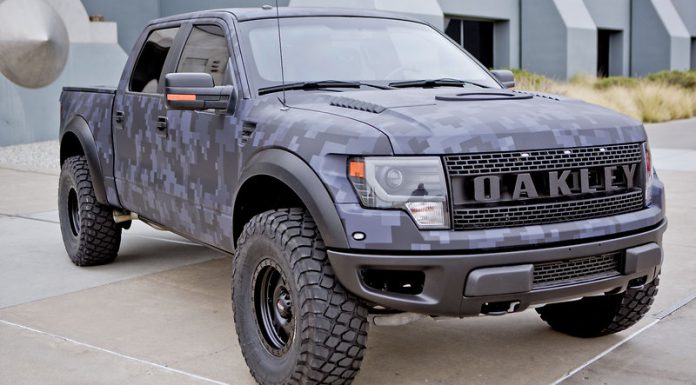 Not too long ago, American golfer Bubba Watson showcased his beautiful white 2014 Chevrolet Corvette Stingray. Well, the golf star has just revealed his brand new car and it is arguably even more impressive than his relatively stock Corvette. Based on a 2013 Ford F-150 SVT Raptor 4×4 SuperCrew Cab, the potent off-roader has been thoroughly upgraded inside and out by Oakley, Watson's title sponsor.
The build of this custom F-150 SVT Raptor took approximately 6 months to complete and in that time, thousands of hours of labour was put in. The most dramatic change to the car is the all-new exterior which is completely bulletproof. That also includes the windows. While Watson doesn't necessarily need a bulletproof car, when you have the money and resources of Oakley, why not?
Additionally, this Ford F-150 SVT Raptor has been wrapped in a stunning black and blue digital camo print. Moreover, the car includes a custom aluminium Oakley grille, a massive Oakley logo machined to fit onto the hood along with some massive mud tyres also being fitted.
In the cabin, Oakley fitted a selection of lime green accents including lime green stitching on the seats, green centre console and green Oakley logos on the headrests.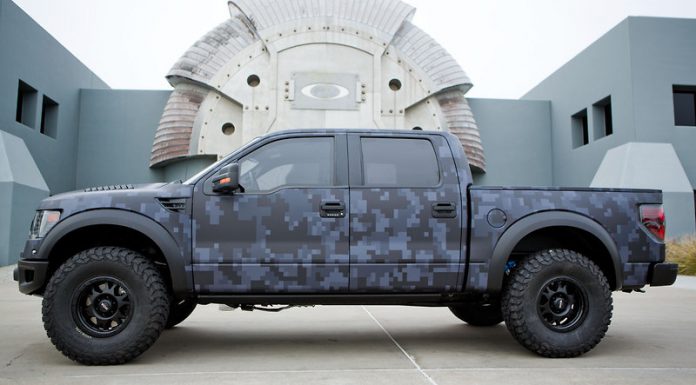 When discussing Oakley's creation, Watson said, "Seeing the finished product is even more impressive than I imagined. My favorite thing would have to be that it's bulletproof. How many people can say they have a bulletproof truck? I can! Plus, it has a matte black and gray 'digital camo' paint job, big off-road tires and lime green accents on the interior. It's awesome!"