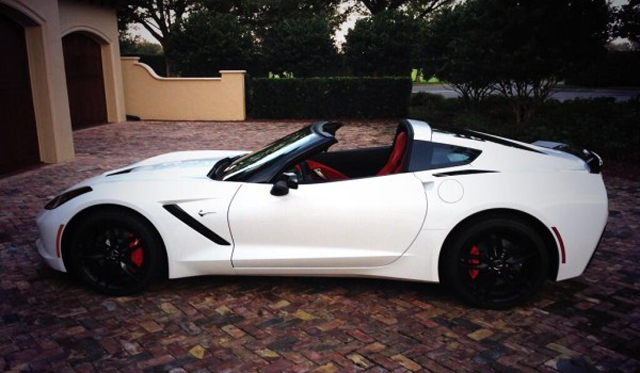 One of the world's best golfer's, Bubba Watson, recently received a Christmas present most of us can only dream about with his wife giving him a brand new white 2014 Chevrolet C7 Corvette Stingray!
Bubba's new Corvette is one of the most impressive we have seen to date with it featuring a white paint scheme with contrasting gloss black wheels and a carbon fiber bootlid spoiler. Additionally, it features black wing mirrors and black A-pillars. It then features a red and black leather interior which is matched nicely by the bright red brake calipers.
Pictured here with the roof down, we can't imagine why anyone would want the new Corvette Stingray Convertible when this looks so much better!
What would you prefer, the normal Corvette Stingray coupe with its removable roof panel, or the Corvette Stingray Convertible?