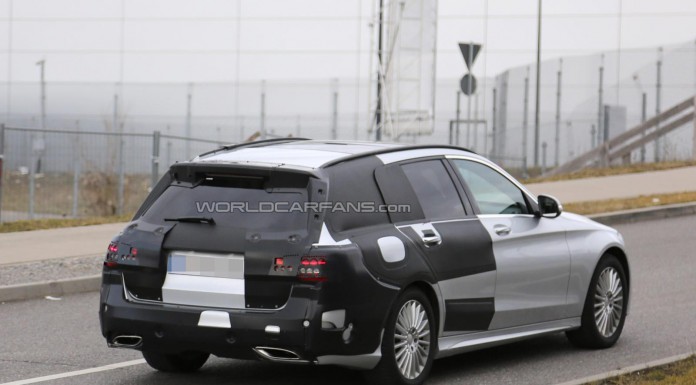 Brand new spyshots have emerged showcasing the 2015 Mercedes-Benz C-Class Estate undergoing testing. Based on the timing of these images, it appears as though the Estate will be the first non-sedan variant of the new C-Class. Further down the road a convertible variant will be offered as will a coupe.
The prototype you see above was wearing heavy camouflage at the rear because that is where the majority of the changes are taking place. Obviously, the Mercedes-Benz C-Class Estate will have more cargo space than the regular C-Class sedan and these images confirm previous spyshots and a reported leak by showing completely redesigned taillights when compared to the sedan.
If current reports are to be believed, the 2015 Mercedes-Benz C-Class Estate will ride on a new MRA platform which is lighter than the platform used by the sedan. As you would imagine, engine options are set to remain identical to the sedan but it is currently unclear just how many variations of the C-Class Estate will be offered.
One version which can be confirmed is a C63 AMG Estate set to receive the same twin-turbocharged 4.0-liter V8 engine as the upcoming regular C63 AMG sedan. Because this powertrain has yet to be released, details are not yet fully known. However, it is pinned to deliver around 450 hp.
It is quite possible that the 2015 Mercedes-Benz C-Class Estate will debut at the Geneva Motor Show 2014 next month.
[Via World Car Fans]