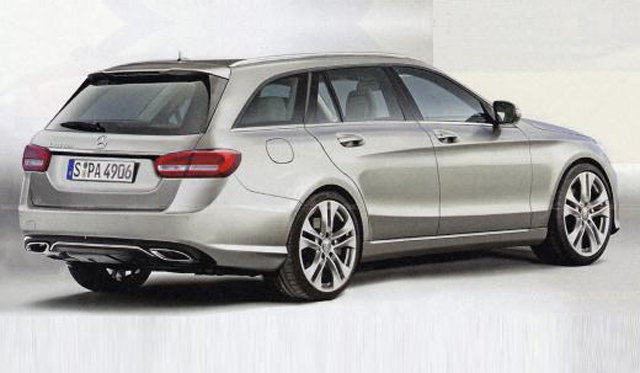 An image reportedly showcasing the recently spied 2015 Mercedes-Benz C-Class Estate has leaked online and it looks just as that recent spy shot revealed.
This image is said to have come from the most recent edition of Quattroroute Magazine, just like this recent leaked image of the 2015 Porsche 991 911 Targa. However, based on this spy shot which showed some slightly different taillights, this image could be nothing more than a close to real rendering.
2015 Mercedes-Benz C-Class Sedan

Either way, the new taillights are dramatically different from those of the new C-Class sedan. They are more horizontal, wider and narrower taillights fitting nicely in line with the stretched body of the car. Another new feature which can be seen is dual chrome exhaust tips nicely integrated into the rear bumper.
As for engines, expect the same offerings as the sedan. Some of the entry-level models include the Mercedes-Benz C220 Bluetec sporting a 2.1-liter turbo diesel delivering 168 hp as well as the C180 powered by a 1.6-liter petrol with 154 hp and the C200 featuring a 2.0-liter petrol with 181 hp. Further down the road, we will see the introduction of the C250. This variant will feature a 2.0-liter petrol engine delivering 208 hp and 258 lb-ft of torque. Additionally, an even more fuel-efficient variant of the C220 Bluetec will be offered with the more powerful and more expensive C250 Bluetec to feature a 2.1-liter turbodiesel pumping out 201 hp and most significant, 369 lb-ft of torque. All of the aforementioned variants will be available with the firm's nine-speed dual-clutch automatic transmission.
Additional models will include C300 Bluetec, diesel C250 and plug-in hybrid variant of C300.
As for a debut, well that is currently pinned for the Detroit Motor Show 2014 next week!
[Via In Auto News]