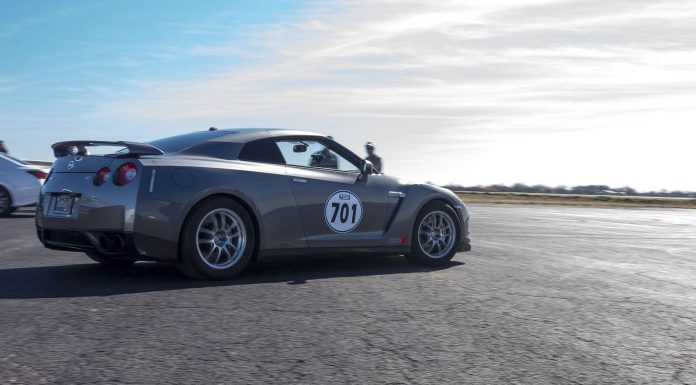 When the Nissan GT-R leaves its Japanese factory, it is genuinely one of the world's fastest accelerating cars. This is despite the fact that many other supercars deliver significantly more power than it, but the GT-R's incredible traction control system and fast shifting transmission more than make up for it.
[youtube]http://www.youtube.com/watch?v=JPS_Ns03Ito#t=260[/youtube]
However, if you're looking for that extra speed, then the Alpha 16 package is the absolute pinnacle of Nissan GT-R performance tuning. As the name suggests, Nissan GT-Rs fitted with the Alpha 16 package are tuned to deliver 1600 hp at all four wheels, more than triple the output of the standard car. What this makes for is some incredible performance figures and the following Nissan GT-R Alpha 16 is one of the most impressive.
During a recent drag racing at the Royal Purple Raceway in Houston, this Nissan GT-R Alpha 16 manages to complete the quarter mile in a mere 8.11 seconds at 176 mph. Making this time all the more impressive is that this GT-R actually weighs slightly more than a standard GT-R and doesn't feature a stripped out interior or anything else!
During this incredible run, this GT-R managed to sprint from 0 to 60 mph in a mere 1.63 seconds which is believed to be a brand new GT-R acceleration record. It then went from 60-130 mph in 2.98 seconds and 100-150 mph in 2.79 seconds!