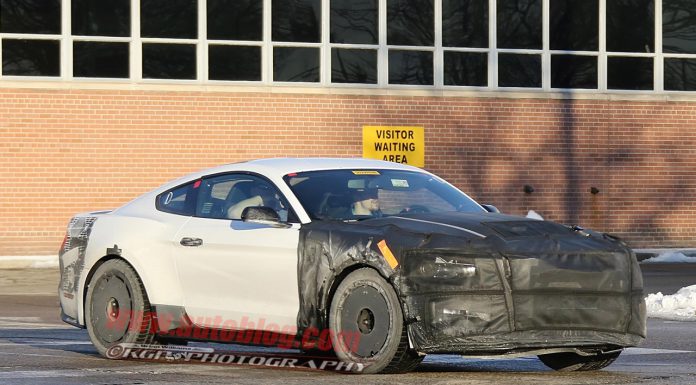 Even before the 2015 Ford Mustang was officially revealed almost exactly two months ago in early December, there was talk about the upcoming Mustang GT350 variant. Now new images of a Ford Mustang GT350 have appeared online with this prototype wearing less camouflage than previous GT350 test mules.
If reports are to be believed, the new Ford Mustang GT350 will actually replace the outgoing Ford Shelby Mustang GT500 which produces 662 hp in standard specification.
This white prototype can be seen clearly sporting a new hood with a massive power dome appearing to have air intakes incorporated. If true, then it seems inevitable that the new Ford Mustang GT350 will feature some form of forced-induction. Additionally, this Mustang GT350 prototype features a set of massive quad exhaust pipes as well as wider rear tires and what appears to be some real negative camber at the rear.
Unfortunately, these are all the details we have about the upcoming Ford Mustang GT350. However, we can say that a debut at the New York Auto Show in April is likely.
As for the standard Mustang, it is first available with three different engines consisting of an upgraded 3.7-liter V6, a brand new 2.3-liter EcoBoost engine and a more powerful 5.0-liter V8 powerplant.
[Via Autoblog]