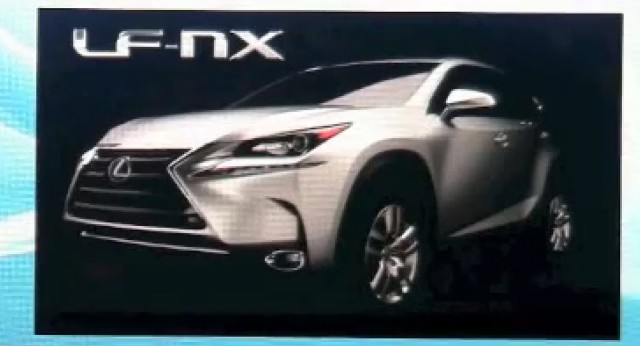 During a recent Lexus presentation prior to the Detroit Motor Show 2014 kicking off, the Japanese automaker gave onlookers a quick glimpse of the production variant of the LF-NX SUV.
[youtube]http://www.youtube.com/watch?v=QzZA-YhfS7k#t=630[/youtube]
If you watch the video below at the 10:40 mark and onwards you will notice that the man speaking reveals the Lexus LF-NX concept it brought to the Tokyo Motor Show late last year would be making an appearance at Detroit and it certainly did. However, it seems as though an image of the actual production spec car was shown instead of the intended concept version!
Unsurprisingly, this image shows that the production-spec Lexus LF-NX ditches many of the insane lines of the original concept. Nevertheless, it does feature similar headlights to the concept's as well as the ones featured on the Lexus RC coupe. Additionally, it features a similar angled side design finishing with prominent rear wheel arches.
Some of the most prominent things it is missing is the massive spindle grille replaced with a much smaller one, a far more conservative roof line and inevitably, a completely different interior.
Nevertheless, during the presentation it was revealed the Lexus LF-NX will feature Lexus's very first turbocharged motor as the car was launched with in Tokyo. The production spec car is expected to launch at the Geneva Motor Show 2014 in March!