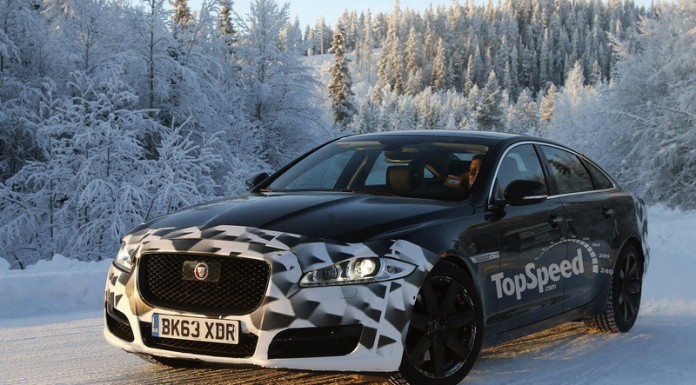 The facelifted Jaguar XJ has been spotted testing yet again albeit this time a prototype made its very first appearance in the snow!
This prototype can be seen sporting some obvious camouflage at the front and rear obviously hiding a few nips and tucks but nothing major. The more significant visual changes featured on this prototype are not covered by camouflage at all as they are the newly designed front air intakes. The main front grille has been slightly reduced in size to make way for a larger air intake underneath.
It is currently unclear when the facelifted Jaguar XJ will be revealed, but due to the fairly limited changes, don't expect to wait all too long. Whenever the facelifted car does arrive, expect a new Jaguar XJR in a few years' time as well.
The current 2014 Jaguar XJR features Jaguar's signature engine, the 5.0-litre supercharged V8 engine. In the XJR this engine delivers 550 hp at 6500 rpm and 680 Nm of torque between 2,500 and 5,500 rpm, Up 40 hp and 55 Nm of torque compared to the XJ Supersports. With the uprated engine and the optimized setup of the 8-speed ZF gearbox the XJR propels from 0-100 km/h in just 4.6 seconds and continues to an electronically limited top speed of 280 km/h.
[Via Top Speed]