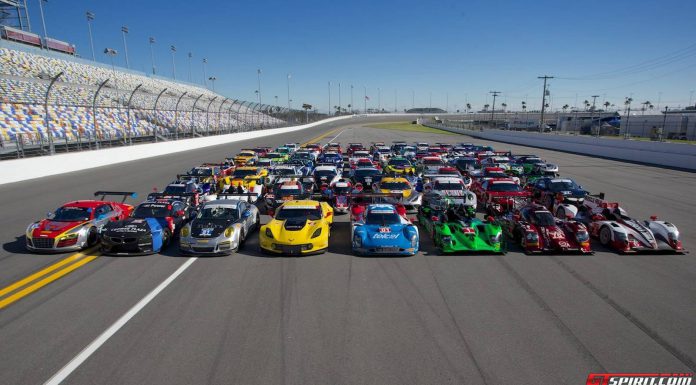 This weekend marks the 52nd running of the Rolex 24 at Daytona with the qualifying having taken place yesterday, the main race will take place at 2pm CET and aired on FOX. This being the first TUDOR United SportsCar Championship after its merger late last year, the teams have a lot to prove although they are still the same racers from the former Grand AM and ALMS leagues.
A quick overview of how they qualified; Alex Gurney set the fastest lap of 130.416 mph at 1:38.270 in the No. 99 GAINSCO/Bob Stallings Racing Corvette DP thus earning the overall pole position and in the Prototype class. He was co-driven by Jon Fogarty, Memo Gidley and Darren Law Second in this class was Richard Westbrook in the No. 90 Spirit of Daytona Racing Corvette DP with a best lap of 130.219 mph at 1:38.487). His co-drivers are Canadian Michael Valiante and DTM veteran and 2010 Rolex 24 overall winner Mike Rockenfeller.
Closing the top three top positions and still in the Prototype class was the No. 5 Action Express Racing Corvette DP which benefited from a disqualification that was given to Brendon Hartley in the No. 78 Starworks Motorsport which failed to meet ride height measurements. The No.5 racer was driven to this lucky spot by Christian Fittipaldi at 129.903 mph(1:38.658); his co-drivers are Joao Barbosa, Sebastien Bourdais and Burt Frisselle.
Coming to the Prototype Challenge (PC) Class, it was Colin Braun who emerged fastest at 125.922 mph (1:41.777) in the No. 54 CORE autosport ORECA FLM09. He was followed closely by Renger van der Zande in the No. 8 Starworks Motorsport ORECA FLM09 who ran a best lap of 125.875 mph at 1:41.815 co-driven by Mirco Schultis, Eric Lux and Sam Bird. Third in the PC class was Bruno Junqueira after running a best lap of 125.731 mph at 1:41.932 in the No. 09 RSR Racing ORECA FLM09 and co-driven by Duncan Ende, David Heinemeier-Hansson and Gustavo Menezes.
The GT LeMans class and one of the most thrilling went down with a huge fight from all teams but it was SRT Motorsports who emerged victorious by scooping the pole in this class. Marc Goossens was the fastest with a best lap of 122.634 mph at 1:44.506 in the No. 91 SRT Motorsports SRT Viper GTS-R; his team mate Jonathan Bomarito qualified third in the team's No. 93 SRT Viper GTS-R. This left the second position in this class to the No. 911 Porsche North America Porsche 911 RSR driven by Nick Tandy.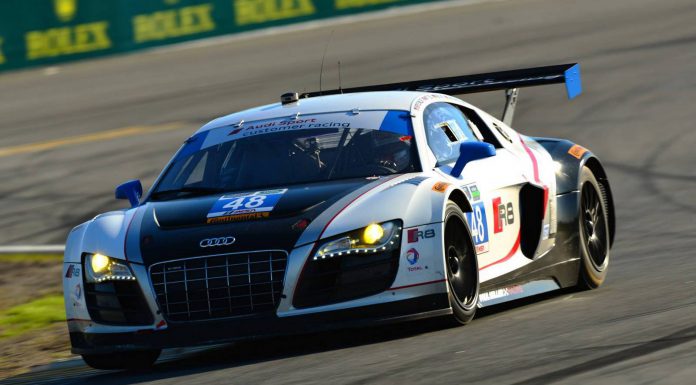 Another thrilling class; the GT Daytona (GTD) class saw the No. 48 Paul Miller Racing Audi R8 LMS win pole; it had been disqualified on Thursday night citing unapproved rear wing, its position was given to the No. 63 Scuderia Corsa Ferrari 458 Italia. The position was however awarded back to the Audi after it was cleared. The third place in this class went to the The No. 007 TRG-AMR Aston Martin V12 Vantage.