Audi has kicked off the year with victory at the 2016 edition of the 24 Hours of Dubai which ended yesterday at the Dubai Autodrome. The German manufacturer had a plethora of teams fielding the all new Audi R8 LMS in various classes, Belgian Audi Club Team WRT scored the main win with the #19 Audi R8 LMS piloted by Laurens Vanthoor, Alain Ferté, Michael Meadows and Stuart Leonard.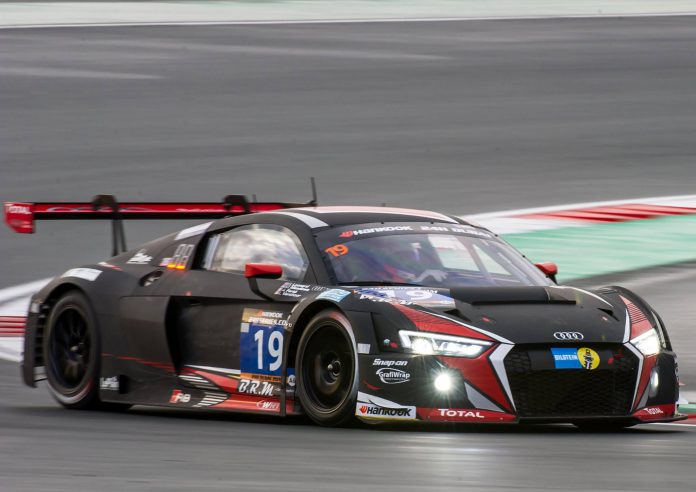 Black Falcon finished in second place with their #16 Mercedes-Benz SLS AMG GT3 driven by Abdulaziz Al Faisal, Oliver Webb, Adam Christodoulou, Oliver Morley and Frank Montecalvo. C. ABT Racing claimed third place overall in their #4 Audi R8 LMS – a double podium for Audi in this Class A6-PRO. The car was driven by Christer Jöns, Andreas Weishaupt, Isaac Tutumlu Lopez, Matias Henkola and Daniel Abt.
As with any 24 hour race, the Dubai 24H had its fair share of incidents throughout the event. Black Falcon debuted two new Mercedes-AMG GT3s which were forced to retire in separate collisions. Scuderia Praha were in the front row and even leading the race at some point before their #51 Ferrari 458 GT3 made heavy contact with the Primus Racing Ginetta G55 forcing them to retire.
The #28 Audi R8 LMS of Land Motorsport took the lead after the Ferrari crashed and held on to it for nearly 200 laps before a gearbox failure forced them to retire. Other major retirees included the #27 SPS Automotive-Performance Mercedes-Benz SLS AMG GT3 and the #26 Konrad Motorsport Lamborghini Huracán GT3.
Elsewhere, Hofor Racing won the Amatuer class with the #10 Mercedes-Benz SLS AMG GT3 driven by Christiaan Frankenhout, Kenneth Heyer, Roland Eggimann, Chantal Kroll and Michael Kroll. Preci-Spark claimed second in this class in another Mercedes-Benz SLS AMG GT3 ahead of the #34 Audi R8 LMS of Car Collection Motorsport.
Lechner Racing Middle East emerged on top in the Porsche 991 Cup class with a 1-2 finish in the #40 and #81 Porsche 911. Black Falcon claimed third place in this class with the #61 Porsche 991 cup car. Porsche Lorient Racing won the SP2 class with the #64 Porsche 997 Cup S.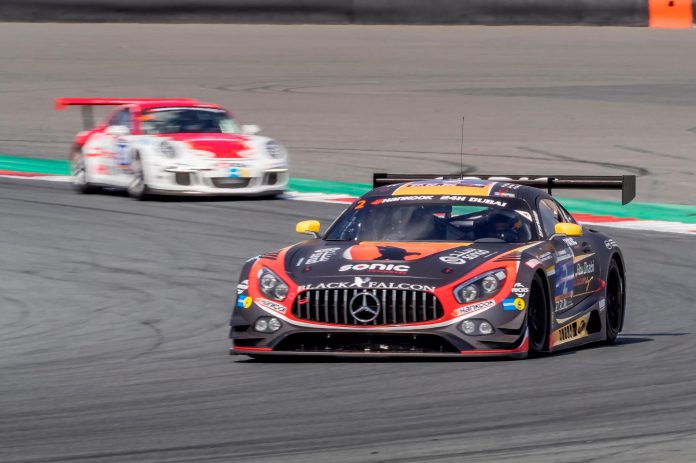 Other classes included the SP3 category which was won by Century Motorsport with the #229 Ginetta G55 GT4. Memac Ogilvy Duel Racing won the TCR class with a Seat Leon Cup Racer while Team Altran Peugeot topped the A3 class in a Peugeot 208 GT. The #148 QSR BMW M235i Racing Cup won the CUP1 class while Besaplast Racing won the A2 class in a Mini Cooper S JCW.