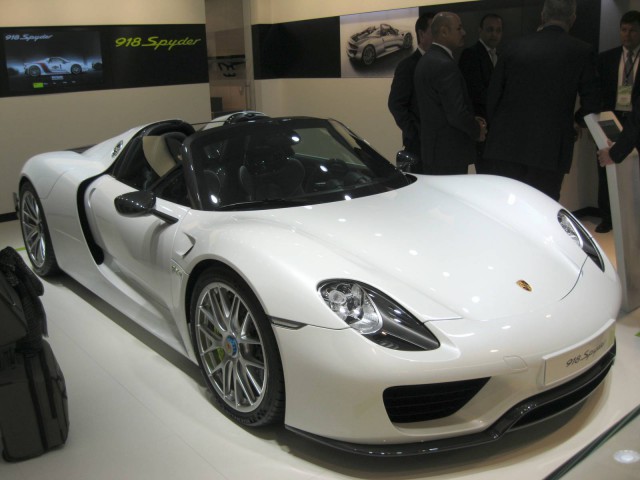 Hidden away in a small section of the Porsche booth at the Detroit Motor Show 2014 is this, the Porsche 918 Spyder Weissach Package. Designed as the ultimate version of the absolutely ultimate road-going Porsche, the Weissach equipped Porsche 918 Spyder features mind-blowing performance and we managed to snap some live pictures of it!
The headline for the Weissach Package is improved performance. From zero to 100 km/h takes just 2.6 seconds, 0.2 seconds faster than the standard model. It takes just 7.2 seconds to travel from zero to 200 km/h in 7.2 seconds (a 0.5 second reduction), and 19.9 seconds to pass the 300 km/h mark (a 2.1 second reduction). Needless to say, this is the car that set the Nurburgring lap time!
To achieve the dramatic increases, Porsche places the 918 Spyder on a diet! It sheds around 36 kg thanks to innovative measures such as a full-body film wrap instead of paint, magnesium wheels, a weight-optimised brake system with titanium components, wheel bearings with ceramic balls, a CFRP anti-roll bar at the rear axle and a CFRP prop on the luggage compartment lid.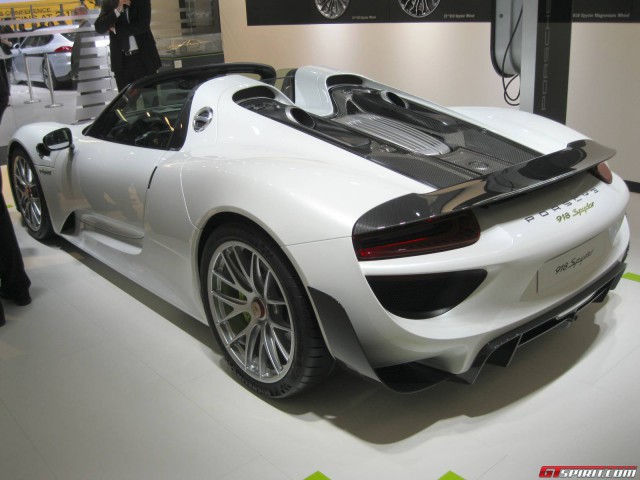 Under the hood, it features the same powertrain as the standard 918 Spyder. That is a mid-mounted 4.6-litre V8 engine producing 608 hp independently – the highest specific power of any naturally aspirated Porsche engine. The V8 is then supplemented by a further two electric motors mounted on each axle. The electric motors can either drive the wheels independently or work together with the engine to boost performance. Each motor produces enough power to boost the total figure to an amazing 887 hp. A seven-speed Porsche Doppelkupplung (PDK) controls power delivery to the rear wheels.
For more on the Porsche 918 Spyder, take a look at our earlier article. Remember to bookmark our Detroit Motor Show 2014 channel for the latest Detroit Motor Show News!