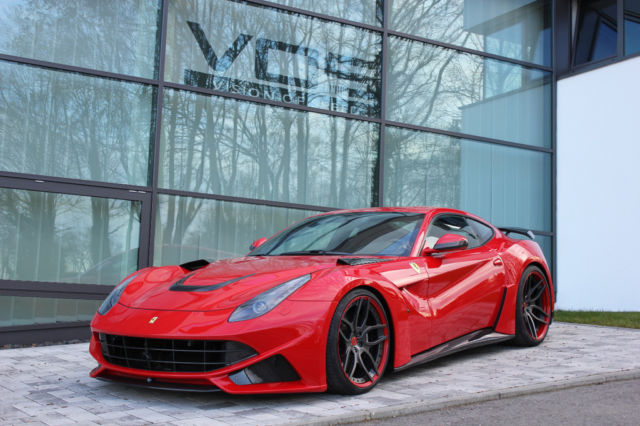 Officially unveiled in early October last year, the Novitec Rosso N-Largo Ferrari F12 is arguably Novitec Rosso's most insane custom Ferrari ever. Combining outlandish styling both inside and out as well as some minor engine modifications, it really is the perfect car for those that think the regular F12 isn't flashy enough.
Now one of the first, if not the very first, Novitec Rosso N-Largo Ferrari F12 is up for sale in Germany with just 550 km on the clock. With an asking price of 499,000 euro including the 19 per cent VAT, this certainly isn't a car for those new to the wonderful world of supercars!
At the very front, Novitec Rosso fit a replacement front bumper with a different duct layout. Testing in a wind tunnel proves that the new component reduces negative lift and further improves handling stability. The hood receives the N-Largo air scoops on the left and right-hand side as well as with the central air deflection insert. A rear spoiler sits atop a five piece diffuser at the rear of the car. Carbon fibre exterior mirrors finish off the look.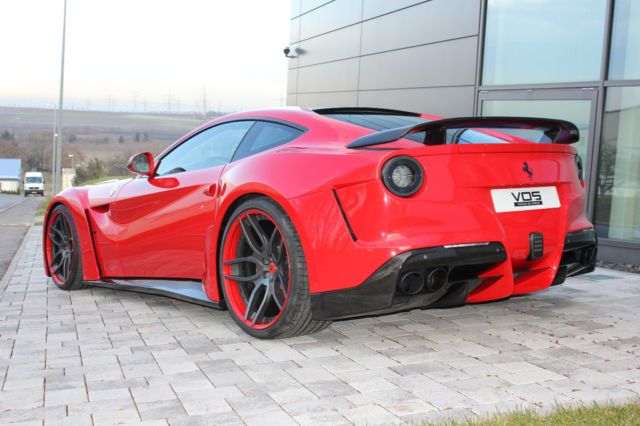 The wheels benefit from tailor-made three-piece Novitec Rosso NF5 NL forged wheels combining 21-inch rims at the front with 22-inch rims at the rear. To create a stanced feeling, Novitec Rosso lower the suspension by up to 40 mm with the help of a special set of sports springs. An optional lift system is available for those that require greater ground clearance for the parking garage or speed bumps.
The Novitec Rosso power upgrade boosts output to 781 hp and 722 Nm for a top speed of about 350 km/h. To extract that power from the 6.3-liter 12-cylinder four-valve engine, a stainless steel exhaust system is fitted with a new mapping for the engine management system. Inside, Novitec Rosso offers a range of bespoke options for the interior. The cockpit can be designed in leather and Alcantara in any desired color.
[Via Mobile]