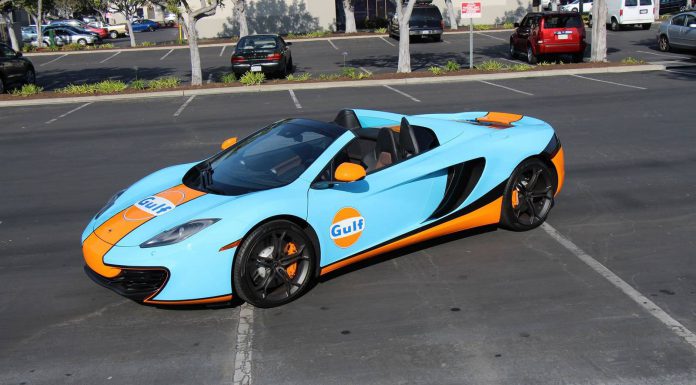 The McLaren 12C is a fantastic engineering exercise. It is an flawless formula for speed that has been executed by the engineers that made the marques Formula 1 team the second most successful in the history of the sport.
As a result of its focused nature and aerodynamically crafted looks, the British cars looks have often been scrutinised. The car you see photographed here certainly does not fail to draw attention! McLaren Newport Beach sent this car to be wrapped by PFS in the traditional, but epic, orange and blue Gulf Livery!
As a reminder, the McLaren 12C Spider hides a 3.8 liter twin turbo V8 engine delivering 616 hp at 7,000 rpm and 443 lb-ft of torque between 3,000 and 7,000 rpm under the bonnet. Those performance figures offer a sprint from zero to 100 km/h in 3.3 seconds (3.1 seconds with corsa tires). As a result the car certainly earns supercar status.