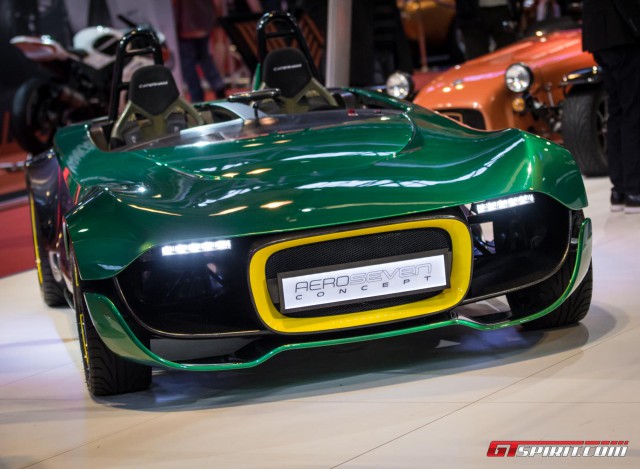 Caterham Cars have placed the AeroSeven Concept on display at Autosport International held in Birmingham. The concept draws on methods used by the F1 team and will be the first Caterham to be fitted with traction Control. Combining skills and expertise from across the entire Caterham group, including the Caterham F1 Team, the race-inspired car accelerates to 62mph in less than four seconds and features a 2.0-litre Ford Duratec engine delivering 237bhp under its carbon fibre body.
The striking aerodynamic design which is featured to increase downforce was hard to miss on display with its racing green paintwork. The interior of the car boasts a fully active graphical display unit which is centrally mounted. The race inspired racing wheel incorporates "road" mode, 'flash-to-pass' and "Pit lane Speed Limiter" functions.
The AeroSeven Concept is stacked with race car-inspired features, including aerodynamic styling, an exclusive steering wheel with driver-focussed functionality, and an intuitive fully active Graphical Display Unit (GDU).
Production will remain at the Caterham Cars factory in Dartford, UK. Delivery of the production version of the concept model will begin in Autumn 2014.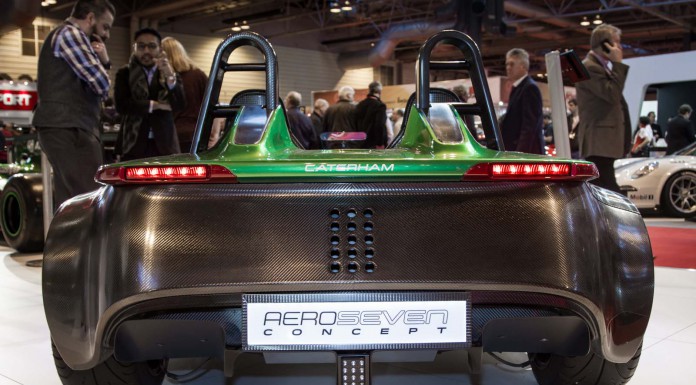 Graham Macdonald, Managing Director of Caterham Cars, said: "Over the coming years, we will be expanding our range of Sportscars as we look to meet the differing needs and desires of potential customers – from the lifestyle customer to the ultimate thrill-seeker. The AeroSeven Concept is the first model in that journey."
Our Photographer Steven Roe is present at the event over the weekend and we have included some of his highlights of the Catherham AeroSeven Concept.