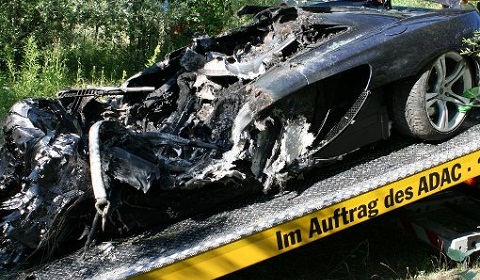 A McLaren MP4-12C caught fire recently on the ring road junction between the A92 and the A99 just outside of Munich. The fire happened on Wednesday, it seems that the driver lost control of the car and crashed into a tree.
The two occupants sustained injuries, we presume they were taken to hospital. There's no suggestion that these were life threatening though. The car was on dealership plates and it appears the driver was on a test drive.
The emergency services report that by the time they arrived, both driver and occupant had escaped the car. Foam was then used to extinguish the flames. The fire looks to have totally wrecked the McLaren MP4-12C.