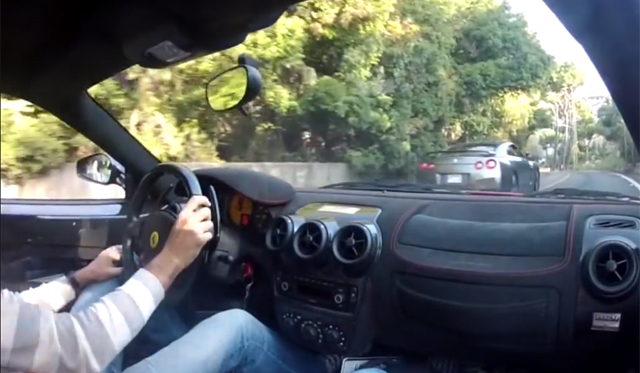 While Lebanon certainly isn't known around the world for its supercar scene, the Middle Eastern country still has its fair share of supercars and the following video shows both a red Ferrari 430 Scuderia and Nissan GT-R speeding through some stunning Lebanese countryside as well as some tight roads through various towns. Towards the end of the video, the camera switches to the cabin of the GT-R after a high-speed run in the Scuderia!
[youtube]http://www.youtube.com/watch?v=jhgay-QzDNA[/youtube]
As a reminder, the Ferrari 430 Scuderia uses a 4.3 liter V8 with 508hp that is able to sprint it from naught to 100km/h in 3.6 seconds, thanks to the F1 inspired transmission, enhanced intakes and more power than the base model. It can achieve an autobahn maximum of 319 km/h and to praise it even more; the car is equally fast as the Ferrari Enzo and the standard Ferrari 458 Italia around the Fiorano test track.
By comparison, the Nissan GT-R features a twin-turbocharged 3.8-liter V6 engine which has been uprated throughout the years. From 2007 to 2011, it produced 485 hp, and by 2012 that had been increased to 530 hp. Now, in 2013 and 2014 specification it produces 545 hp and in top Nissan GT-R Nismo specification, that increases towards the 600 hp mark! One thing all Nissan GT-Rs have in common is that its twin-turbo engine is mated to a 6-speed semi-automatic dual clutch transmission.