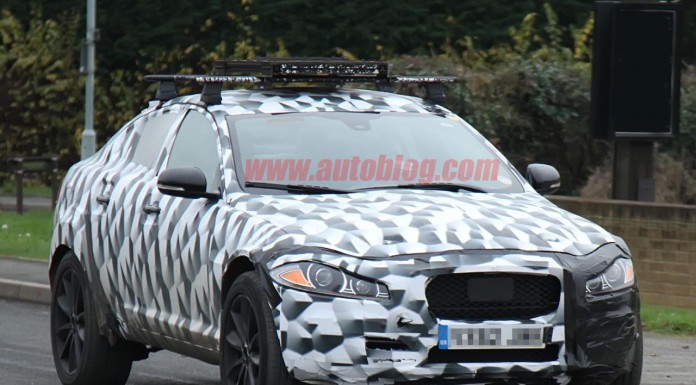 Prior to the official release of the Jaguar C-X17 Sports Crossover Concept at September's IAA Frankfurt Motor Show, a blurry image emerged of a Jaguar crossover concept undergoing early testing. Now new images of that same prototype have emerged but now we get to see the new car much closer and in high-quality.
What is immediately apparent about this Jaguar crossover concept is that it features no design similarities with the C-X17 Concept. This isn't surprising considering Jaguar will want to keep the production spec crossover's design a secret until its inevitable release sometime next year. With that being said, there is no mistaking this is a Jaguar with it featuring similar headlights to the Jaguar XF sedan as well as a slightly modified body shape.
Jaguar C-X17 Sports Crossover Concept

As a reminder, the Jaguar C-X17 Sports Crossover Concept debuted a new all-aluminium monocoque set to "underpin the entire innovative future of the Jaguar brand". Dubbed the IQ[AI] platform translating into "intelligent aluminium architecture", the monocoque is extremely scalable meaning it can be modified for various different Jaguar models in the coming years.
Whenever the Jaguar crossover debuts, it is expected to feature styling clearly reminiscent of the Jaguar F-Type and F-Type Coupe. Such design similarities will be most apparent in the shape of the headlights and taillights.
[Via Autoblog]