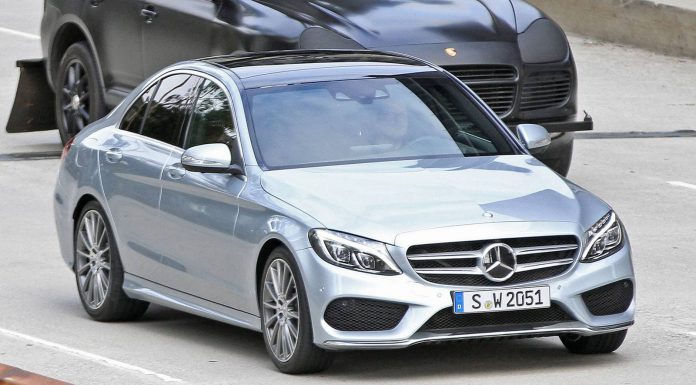 Recently spied completely undisguised during its official photoshoot, reports have emerged suggesting that the 2015 Mercedes-Benz C-Class will debut on December 16th before its worldwide public debut at the Detroit Auto Show 2014 in mid-January.
Obviously we will have to wait until the 16th this month to find out just what variants the new C-Class will be offered in. With that being said, it is being reported that a 168 hp C220 BlueTEC diesel will be offered in Germany alongside a 154 hp C180 and a 182 hp C220. Further down the line, numerous other engines will be offered.
Additionally, the 2015 Mercedes-Benz C-Class will be available as a sedan, wagon, coupe and convertible. Of most interest to us however, is the next-generation Mercedes-Benz C63 AMG. Considering that the next-generation C63 AMG will be competing with both the 2014 BMW M3 and M4, it will likely will be available in a host of variants including convertible, coupe, sedan and possibly even wagon form.
Instead of the 6.2-liter (no, it's technically not a 6.3) naturally aspirated engine of the outgoing C63 AMG, the new model is set to receive forced induction in the form of a 4.0-liter twin-turbocharged V8 engine currently codenamed the M177. This new engine could deliver up to 500hp while of course increasing fuel efficiency and decreasing carbon emissions.
[Via Mercedes-Benz Passion]