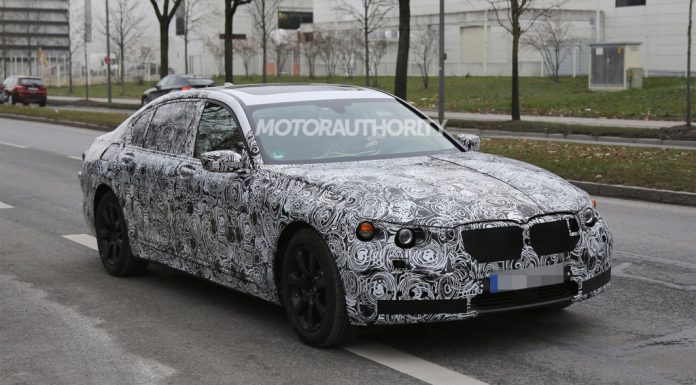 For the 2016 model year, BMW is planning to release a facelifted variant of the range-topping 7-Series. While details about the 2016 BMW 7-Series are sketchy, a heavily camouflaged prototype was recently spied testing.
Earlier this year, the 2014 Mercedes-Benz S-Class was revealed and that has inevitably taken away potential buyers from the current BMW 7-Series. Consequently, the 7-Series is in desperate need of an update if BMW has any hopes of competing with the thoroughly upgraded S-Class. If current reports are correct, the next-gen 7-Series could prove evolutionary from the outgoing model.
Codenamed the G11, the 2016 BMW 7-Series is expected to be offered in regular and long wheelbase guises. From a styling front, expect it to remain a true BMW with the Hofmesiter kink and dual kidney grille. Other than those stylistic features, very little can be said about the new 7-Series' design.
Underpinning the 2016 BMW 7-Series is likely to be a dramatically lighter platform incorporating the know-how BMW has gained through the carbon fiber i3 and i8 sports car. As a result, the new platform could incorporate carbon fiber, steel and aluminium and help the vehicle achieve a drop in weight over up to 400 pounds.
Under the hood, we can expect to see a variety of engines ranging from six cylinders to V12s.