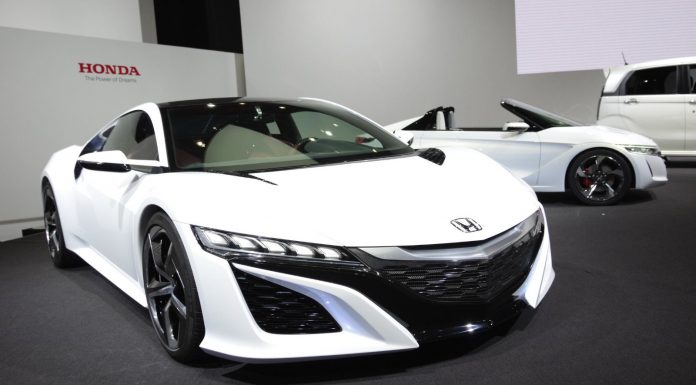 After previewing the official twin-turbocharged V6 engine to be used in the next-generation NSX, Honda brought along a brand new white 2015 Honda NSX Concept on display at the Tokyo Motor Show 2013!
Previously, the next-gen Honda NSX has only been seen in a nice shade of silver, but this pure white adds a real nice pop to the futuristic styling and has got us even more excited to see the production ready car hit the market in the next couple of years!
In addition to the new twin-turbo engine revealed, there is word that Honda may increase the displacement of this engine from the original 3.5-liters up to 3.7-liters for that little bit of extra grunt! Unsurprisingly, this new engine will be completely unique to the upcoming NSX and could easily deliver enough power to rival cars such as the McLaren 12C and the Ferrari 458 Italia.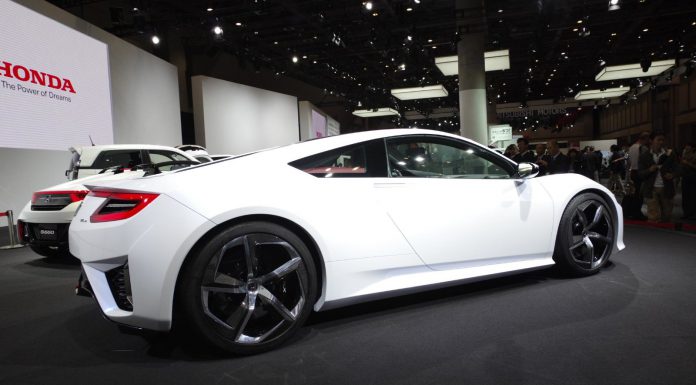 Joining the twin-turbocharged V6 engine will be three electric motors. In this system, one electric motor is mounted at each front wheel while the third is integrated into the engine and helps drive the rear wheels. These motors are powered by a lithium-ion battery recharged thanks to regenerative braking.
Mated to the awesome powertrain will be a dual-clutch transmission promising to have "more than six gears". At this stage, it is most likely the 2015 Honda NSX will receive a seven-speed gearbox but an eight-speed could also be on the cards.