Deliveries of the Porsche 918 Spyder are due to start shortly. It is then, the perfect time to announce specs for the Porsche 918 Spyder Weissach Package and its improved specs!
The headline for the Weissach Package is improved performance. From zero to 100 km/h takes just 2.6 seconds, 0.2 seconds faster than the standard model. It takes just 7.2 seconds to travel from zero to 200 km/h in 7.2 seconds (a 0.5 second reduction), and 19.9 seconds to pass the 300 km/h mark (a 2.1 second reduction). Needless to say, this is the car that set the Nurburgring lap time!
To achieve the dramatic increases, Porsche places the 918 Spyder on a diet! It sheds around 36 kg thanks to innovative measures such as a full-body film wrap instead of paint, magnesium wheels, a weight-optimised brake system with titanium components, wheel bearings with ceramic balls, a CFRP anti-roll bar at the rear axle and a CFRP prop on the luggage compartment lid.
Inside, carbon fibre covers the centre section of the dashboard, the centre console surround, the door pulls and the gearshift paddles on the sports steering wheel. Other measures include seat upholstery in flame-retardant fabric, door opening loops in black and, also in black, six-point racing harnesses supplied ready to install for driver and passenger.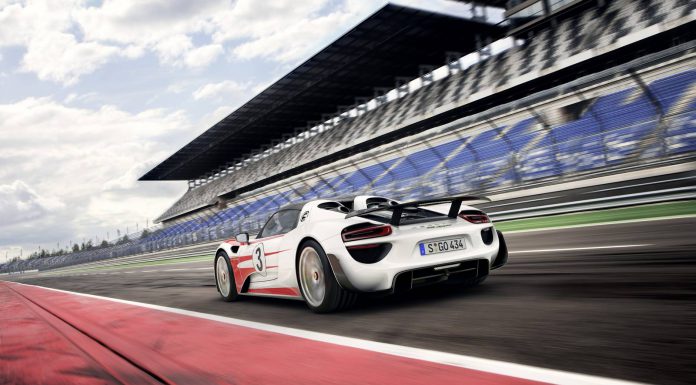 With the Weissach package fitted, the vehicle's total NEDC fuel consumption amounts to 3.0 l/100 km (3.1 l/100 km without the Weissach package). That equates to CO2 emissions of 70 g/km (72 g/km without the Weissach package). The level of energy consumption was determined to be 12.7 kWh/100 km during the approval cycle.