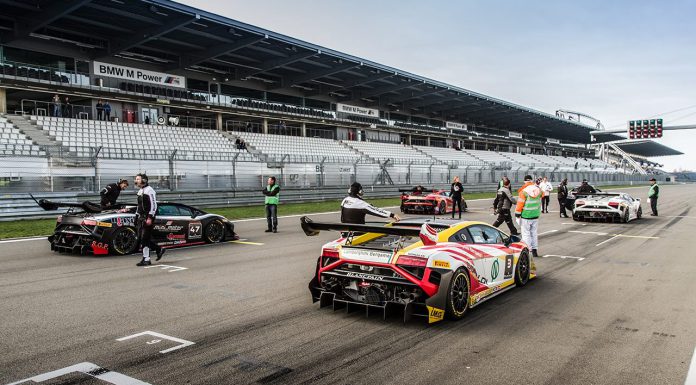 The World Final of the Lamborghini Blancpain Super Trofeo 2013 takes place this coming weekend at the Autodromo Vallelunga Piero Taruffi in Italy. But before that, let us look at some of the best moments in the season, for starters; the Lamborghini Blancpain Super Trofeo is a one-off series which takes place in Europe, Asia and now in North America. The rules are similar and the cars are similar- the Lamborghini Gallardo LP570-4 Super Trofeo.
We have not featured much of the Asian Series but the season has been covered well enough for the European and the American regions. The season kicked off in Monza Italy with a win for South African driver Adrian Zaugg. One of the other exciting races of the year was at the Misano Circuit, this was a night race. The overall winner was Andrea Solimè and team-mate Andrea Palma.
Silverstone was another exciting round filled with drama with wins going to Cédric Leimer and Andrea Amici. Amici won the race taking advantage of a crash, he climbed 12 positions up from 16th getting up to fourth in just under four laps. His luck continued when race-leader Zaugg stopped to hand over the car to his teammate and Amici narrowly managed to skip to the lead.
It is difficult to forget the tragic loss of Andrea Mamé tragically killed at the Circuit Paul Ricard who was involved in a crash with four other racers. The drivers had to not only show their strength but also focus on ending the season safely. Meanwhile, the series made its debut in the North American region at the AMLS North Eastern Grand Prix at Lime Rock Park.
The second round of the Lamborghini Blancpain Super Trofeo Series in North America took place at the Kansas Speedway and it proved to be a success. Meanwhile in Europe, the Nurburgring round took place, Andrea Amici won the championship title for the best PRO-AM driver. The title for the best team went to AutoVitesse Garage while Laurent Jenny emerged as the best AM-driver. Alessandra Brena was the only female driver this entire season and drove without a teammate for the first time at the Nurburgring round.
The North American series came to an end at the Autoclub Speedway in Fontana Canada. Kevin Conway of Lamborghini Carolinas and Change Racing walked away with wins from both Race one and two. We are hoping for an exciting World Final at Vallelunga next weekend, keep it locked here for all the news updates from the ultimate end to the season.
[youtube]http://www.youtube.com/watch?v=bgk566_gkhY[/youtube]