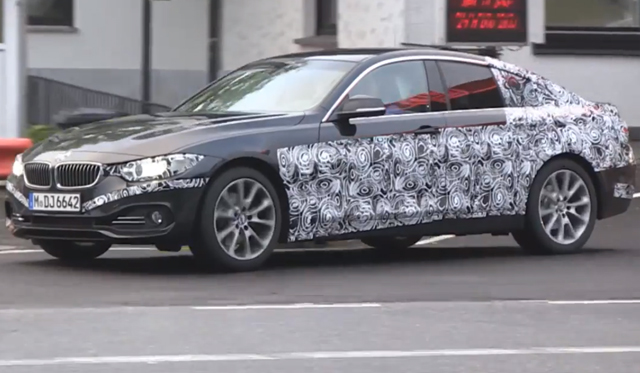 BMW is slowly beginning to reveal more and more variants of the 2014 BMW 4-Series. So far this year, the company has revealed the 2014 BMW 4-Series Coupe, 2014 4-Series Convertible and the M4 Concept Coupe. The production-spec M4 will soon debut at the Detroit Motor Show 2014 in January.
[youtube]http://www.youtube.com/watch?v=6rihdTQ6RAE[/youtube]
However, BMW isn't going to stop there with variants with the upcoming 2014 BMW 4-Series Gran Coupe recently spied undergoing hard testing at the Nurburgring in Germany. As one could imagine, the new 4-Series Gran Coupe will look very similar to the outgoing 3-Series GT. Additionally, reports suggest that the 4-Series Gran Coupe is based on the extended wheelbase of the 3-Series GT. As a reminder, the 3-Series GT measures 2920 mm compared to the 2810 mm of the standard 3-Series sedan.
2014 BMW 4-Series Convertible

As it stands, it is believed that the 2014 BMW 4-Series Gran Coupe will receive the same choices of engines as both the coupe and convertible models. At launch, the 2014 BMW 4-Series Convertible will be available with two petrol engines and one diesel. The most powerful car is the 2014 BMW 435i Convertible featuring an inline six-cylinder turbocharged petrol engine producing 302hp. Next, the BMW 328i Convertible features a 242hp 2.0-liter four-cylinder turbocharged engine. Finally, the diesel BMW 420d Convertible uses a 2.0-liter turbocharged four-cylinder delivering a total of 181hp. All of these models come standard with manual transmissions and can be optioned with 8-speed autos.