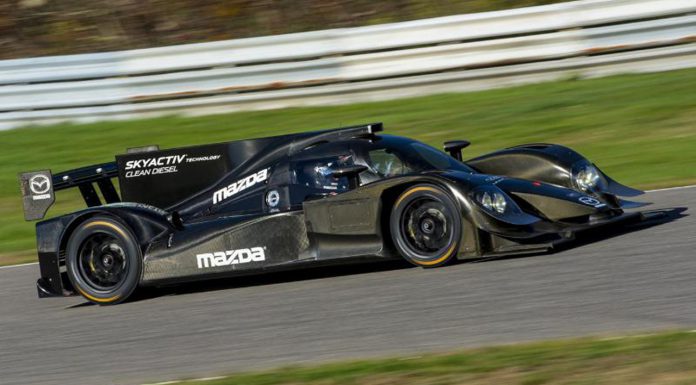 The 2014 TUDOR United SportsCar Championship (USCC) has just received its latest prototype competitor in the form of this new Mazda diesel-powered racer set to compete in the series starting at January's Rolex 24 at Daytona.
Mazda proudly boasts that it will be the only OEM team racing with a diesel engine in the championship. This engine comes in the form of the Skyactiv-d Smart Diesel race engine which is production-based and actually 51 per cent stock by parts count. Understandably, Mazda has yet to reveal any technical specifications of this potent diesel racing engine but we can expect to receive more details in the lead-up to the vehicles racing debut early next year.
Mazda's racing partner SpeedSource Engineering will develop and run the cars on track during the championship. Additionally, Mazda is in talks with customer teams interested in entering the prototype class.
Director of Mazda Motorsports John Doonan said, "This is the most significant step Mazda has taken towards returning to the global racing stage since our overall victory at Le Mans in 1991. And thanks to our SKYACTIV-D Mazda6 racecars winning nine of 12 Rolex GRAND-AM GX races and the GRAND-AM GX Manufacturers Championship this year, we're confident that our two prototype cars will challenge the best North America has to offer."