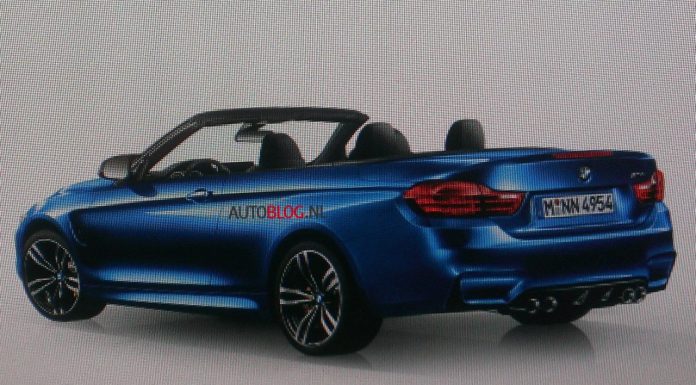 A revealing image said to be the first leaked image of the upcoming 2014 BMW M4 Convertible has just been leaked online.
If reports are to be believed, this particular image comes courtesy of an official BMW German brochure and based purely on the overall shape of the car, it is very possible that this is the real thing. With that being said, the upcoming 2014 BMW M4 Convertible will be virtually identical visually to the coupe without a fixed roof meaning rendering the car wouldn't be all that difficult.
BMW M4 Concept Coupe

Nevertheless, distinguishing the 2014 BMW M4 Convertible from the regular 4-Series Convertible is a new aggressive bodykit with a new rear bumper incorporating a bare carbon fiber rear diffuser as well as quad exhaust pipes. Additionally, the car obviously wears the M4 emblem on the back and sports a new set of wheels.
It doesn't really matter if this is the real thing or isn't it, because it is inevitably very accurate to how the car will look when it is released. As it stands, it is currently unclear when the 2014 BMW M4 Convertible will debut but with the coupe's debut not until next year's Detroit Auto Show, we can expect to see the M4 Convertible at Geneva next year.
Under the hood it will be powered by the same 3.0-liter turbocharged six-cylinder engine as the coupe producing 430 hp and over 369 lb-ft of torque.
[Via Autoblog.nl]